Comedic Masterpiece Tartuffe to Open DePauw Theatre Season
September 17, 2009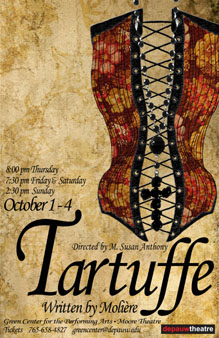 September 17, 2009, Greencastle, Ind. — DePauw Theatre brings pre-revolutionary France to life in Tartuffe, a comedic masterpiece of false impressions, family turbulence, and cunning con artistry. The first production of the 2009-10 season opens on Thursday, October 1, at 8 p.m. in Moore Theatre of the Green Center for the Performing Arts. Performances continue throughout Friday and Saturday, October 2 and 3, at 7:30 p.m., and Sunday, October 4 at 2:30 p.m.
It's seventeenth century Paris, and upholding a good name and reputation means everything in the city's high society -- especially to Orgon, a devoted family man and affluent member of the French bourgeois. When Orgon befriends a homeless yet pious stranger by the name of Tartuffe, he interprets their encounter as an act of God and quickly invites his newfound acquaintance to stay in his home. Orgon soon becomes captivated by Tartuffe's religious prudence and proceeds to lap up his counsel and mimic his holiness. [above photo: Mariane (Katie Sink), Valere (David Kunkel) and Dorine (Emily Terrell)]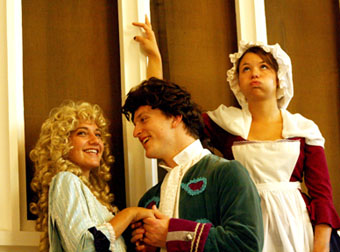 But Tartuffe is not the righteous man he claims to be. In fact, the shrewd swindler is lying, cheating, and stealing in order to obtain Orgon's estate. The rest of the family sees through his phony façade, but are conclusively rebuffed in almost all their efforts to prove Tartuffe's deception before Orgon foolishly bestows his wealth -- and his daughter's hand in marriage -- to the master manipulator. The single effort that does succeed is a highlight of comedic genius. [photo at left: Tartuffe (Jared Norman) and Elmire (Laura Durham)]
In this, one of the most revered works of Molière's playwriting career, the title character Tartuffe embodies the religious hypocrisy prevalent during the rule of King Louis XIV. Molière was so successful at capturing the attributes of insincerity (Tartuffe was censored by the king and banned from public performance for five years) that the biting social commentary is still appropriate today. Director M. Susan Anthony
chose to present Tartuffe for this very reason.
"One timely message of the play is to recognize the difference between true piety and hypocrisy," she says. "The character Cleante states it plainly: 'And just as those whose courage shines the most in battle are least inclined to boast, So those whose hearts are truly pure and lowly don't make a flashy show of being holy.'"
Though the play was first produced in 1664, Tartuffe is not as straight-laced as the corsets its actors wear onstage. The cast aims to engage the audiences' sense of humor and wit through both physical and verbal comedy, further reinforcing the message of Molière's clever lampoon of religious pomp and pageantry.
Special events surrounding all productions of the 2009-10 season include an opening night celebration and a talk-back session with the cast and crew. Audience members for the Thursday evening opening performance are invited to join the cast and crew in the Great Hall of the Green Center for refreshments and conversation following the performance. Saturday evening audiences are invited to stay post-performance to discuss the play, the production and performances with the cast, the crew and guests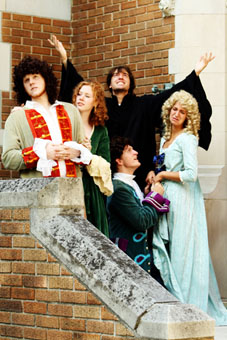 Françoise Coulont-Henderson, professor of modern languages; Dayna Brownfield, dramaturg; and Barbara Whitehead, professor of history. [at right: Damis (Brett Flora), Elmire (Laura Durham), Tatuffe (Jared Norman), Valere (David Kunkel), and Mariane (Katie Sink)]
Tickets for Tartuffe are $3 for students and $6 for adults and are available for purchase at the DePauw University Green Center for the Performing Arts Center Box Office, which is open Monday and Wednesday from noon to 2 p.m., Tuesday and Thursday 1-5 p.m., Friday noon to 4 p.m. and one hour prior to show time. Information and reservations are available by calling (765) 658-4827 or e-mailing greencenter@depauw.edu.
Also available for purchase are DePauw Theatre patron passes. Purchasers are entitled to five tickets for the price of four. The passes are available at both student and adult price levels. To purchase or obtain additional information, contact the Green Center box office.
Back