Wabash Reclaims Monon Bell with a 32-19 Win Over Playoff-Bound Tigers
November 14, 2009
Also:

[Download Video: "2009 Monon Memory" - 10,311kb]; Order Your 2009 Monon Bell DVD
November 14, 2009, Greencastle, Ind. — The Monon Bell is headed back north to Crawfordsville after two years on the DePauw University campus by virtue of Wabash College's 32-19 victory over the Tigers in the 116th Monon Bell Classic this afternoon. The game was played before more than 8,000 fans in sold out Blackstock Stadium and nationally televised by HDNet. The outcome drops DePauw, which has qualified for the NCAA Division III playoffs, to 7-2 on the season. Wabash improves to 9-1 and hopes to win a bid to the tournament when matchups are announced tomorrow. (photo: Alex Turco '10)
The Little Giants take a slim one game advantage in the all-time series, which began in 1890, 54-53-9. DePauw leads in games played since the Monon Bell was introduced in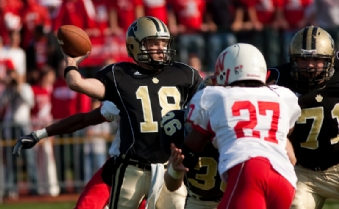 1932 as the winners' prize by a 37-35-6 count.
There was no scoring in the first quarter, but DePauw took a 7-0 lead with 10:26 to play in the second stanza when quarterback Spud Dick found Nathan Evans in the end zone from 4 yards out and Jordan Havercamp kicked the extra point:

[Download Video: "DePauw Scores First"].
DePauw was driving late in the quarter and had a third-and-one at the Wabash six when a bad snap led to a 12 yard loss:

[Download Video: "A Costly Exchange"]. Faced with a long fourth down, the Tigers opted to attempt a 45 yard field goal, which Wabash blocked:

[Download Video: "Blocked!"].
The Little Giants took possession of the football with only 57 seconds remaining, but the determined
visitors made it 6-0 with just 7 seconds remaining when Matt Hudson threw to Kody LeMond for a 9 yard score:

[Download Video: "Wabash Gets on the Board"]. The extra point was blocked, making the halftime tally 7-6.
On the first drive of the third quarter, Wabash took a 12-7 lead when Derrick Yoder rambled in to the end zone from 9 yards out:

[Download Video: "Lead Changes Hands"]. A two point conversion attempt failed.
DePauw answered with 5:02 remaining in the third quarter with a 1 yard run for paydirt by sophomore Jon Ellis:

[Download Video: "Ellis Gives Tigers Lead"]. The Tigers were also unsuccessful on a two point try, making the score 13-12.
Less than a minute later Wabash took -- as it turned out -- the lead for
good. Matt Hudson found Jonathan Horn with a deep pass that was good for a 51 yard score:

[Download Video: "A 51-Yard Dagger"]. Yet another two point conversion failed, making the tally Wabash 18, DePauw 13.
A holding call against the Tigers on the kickoff that followed left the home team with poor field position at the Wabash 8. A third and 10 play from that spot resulted in Dick being intercepted:

[Download Video: "Picked!"]. Three plays later, Hudson and Wes Chamblee hooked up on a 5 yard pass for a score:

[Download Video: "Wabash Builds its Lead"]. The extra point was good, making it a 25-13 Wabash lead.
On a key 4th and 11 from the Wabash 18 early in the fourth quarter, Dick passed to Brayden Dahlstrom but the ball was spotted just shy of the first down marker, and the Tigers turned the ball over on possession:

[Download Video: "So Close"].
A nearly 8 minute Wabash drive followed. With 5:14 left in the game Tommy Mambourg scored on a one yard run, and it was 32-13:

[Download Video: "Mambourg Takes It In"].
A 5 yard pass from Dick to Dahlstrom was the game's final scoring play:

[Download Video: "DePauw Never Quits"].
On the day, DePauw had 30 first downs to Wabash's 20 and had 32 more yards of total offense (450 to 418). They also dominated the time of possession, 37:28 to 22:32. But the Tigers committed three turnovers, while the Little Giants had none.
DePauw's Spud Dick completed 39-of-50 passes for 380 yards and two touchdowns along with three interceptions. His counterpart at Wabash, Matt Hudson, was 19-of-30 for 325 yards and three TDs.
For comprehensive coverage of today's game, visit the official home of Tiger football.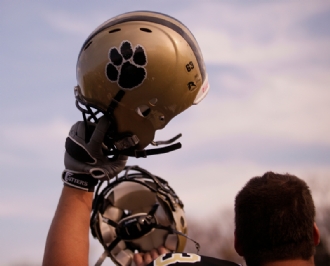 Indianapolis FOX affiliate WXIN-TV also provides a video recap at its Web site.
DePauw will learn tomorrow who it face next Saturday in its first-ever playoff game, while the Little Giants will await word as to whether they will continue on to the playoffs and, if so, what their matchup will be.
Orders are being accepted for the limited edition DVD of the 116th Monon Bell Classic, and limited copies of the 2001-08 games remain available. The discs are professionally replicated and contain bonus materials. Details and an online order form can be found here.

Access DePauw's Monon Bell Web page here.
A complete roster of "Monon Memories" -- video highlights of all the past games dating back to 1890 -- can be found here.
Back