Indiana War Memorial Honors Medal of Honor Recipient Gen. David Shoup '26
August 2, 2009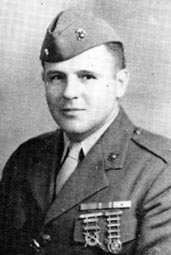 August 2, 2009, Greencastle, Ind. — The memory of General David Shoup -- a Medal of Honor recipient, former U.S. Marine Corps Commandant and 1926 graduate of DePauw University -- is being honored by the Indiana War Memorial in downtown Indianapolis. Two large meeting rooms and the board room at the memorial, which were formerly named after General George Patton, General Douglas Macarthur, and Admiral Chester Nimitz, will be renamed after Gen. Shoup and two other Indiana veterans, Admiral Raymond Spruance and Major Samuel Woodfill.
"The purpose of the renaming is to honor Indiana veterans who have performed extraordinary accomplishments in the service of our nation," according to the organization, which will hold a ceremony December 4. "The renaming is by no means intended to be disrespectful to the exceptional performance by the service members whose names are being replaced. The only intent is to follow the mission statement of the Indiana War Memorials, which is to honor Hoosier veterans."
As a colonel in World War II, Shoup earned the nation's highest award, the Medal of Honor, while commanding the Second Marines, 2nd
Marine Division, at Betio, a bitterly contested island of Tarawa Atoll. The British Distinguished Service Order was also awarded to him. Shoup served as the twenty-second Commandant of the Marine Corps from January 1, 1960 until his retirement from active service, December 31, 1963.
On January 21, 1964, shortly after his retirement, Gen. Shoup was awarded the Distinguished Service Medal by President Lyndon B. Johnson for exceptionally meritorious service as Commandant of the Marine Corps. Shoup died on January 13, 1983 and is buried in Arlington National Cemetery.
Learn more about David M. Shoup in this previous story.
Back