University Mourns the Passing of Former Chaplain Fred Lamar
January 14, 2010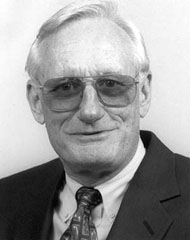 January 14, 2010, Greencastle, Ind. — The Rev. William F. "Fred" Lamar Jr., who served as chaplain of DePauw University for 23 years, passed away yesterday in St. Petersburg, Florida. He was 76 years old.
A celebration of Dr. Lamar's life will take place on Saturday, January 30, at 10:30 a.m. at Pass-A-Grille Beach Community Church, 107 Sixteenth Avenue in St. Pete Beach, Florida.
Born January 4, 1934 in Birmingham, Alabama, Lamar earned an A.B. in history and speech from the University of Alabama in 1954, graduating with Phi Beta Kappa honors. He later received the B.D. at Vanderbilt University, the S.T.M. and D.Min. degrees at Eden Theological Seminary, and Ph.D. at St. Louis University.
Dr. Lamar was appointed chaplain and assistant professor of education at DePauw on June 28, 1974. He came to the University from the University of Missouri at Rolla where he had been Protestant
chaplain for nine years. Previous to that he served parish ministries and as civilian chaplain in Bynum and Fultondale, Alabama between 1959 and 1965.
The Danforth Foundation awarded Lamar a Danforth Campus Ministry Fellowship in 1971. That same year, he received the Baker Award from the division of campus ministry from the United Methodist Church. Dr. Lamar also received the 1996 Francis Asbury Award for Fostering United Methodist Ministries in Higher Education, presented by both the North Indiana Annual Conference and the North Central Jurisdiction of the United Methodist Church. The award was made in recognition of Dr. Lamar's "outstanding leadership in supporting, strengthening and promoting the church's higher education ministries."
He authored a number of articles and made presentations at the Campus Opportunity Outreach League's 1989 National Student Volunteer Conference; the Third World Conference on Disaster and Emergency Medicine,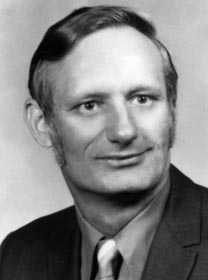 which took place in Rome in 1983; and the 1995 National Symposium on Aging, to name but a few.
Lamar retired from the University at the end of 1997 but remained in close contact with many of his former students and colleagues. In 2004, he was honored during DePauw's Alumni Reunion Weekend (below right: Fred Lamar and his wife, Martha, in June 2004 with DePauw's eighteenth president, Robert G. Bottoms)
In 1996, a gift by Kenneth C. "K.C." Mosier II, a 1966 graduate of DePauw, led to the creation of the Fred Lamar Endowment for Christian Outreach and Service. It continues to provide support for faith-based student programs.
In their book, Careers for Good Samaritans and Other Humanitarian Types, now in its third edition, Marjorie Eberts and Margaret Gisler wrote, "College chaplain Fred Lamar entered this field because he always had a love for young people and higher education ... On the campus of DePauw University, where Chaplain Lamar works, the chaplain's program is based upon the belief that values, ethics and faith are developed through reflection upon
life experiences. Rather than preach to the students, Chaplain Lamar and the other chaplains started a program in 1975 that encouraged student participation in service experiences. Such experiences challenged them not only to lend a caring and helping hand but also to view the world from another's perspective -- whether that of an abandoned inner-city child, a forgotten nursing home resident, or a third world peasant."
In 1978, Fred Lamar told the Saturday Evening Post, which featured the service work of the chaplain and his DePauw students, "I had always preached against the sins of the rich. I discovered many of these kids -- to their parents' credit -- didn't have the slightest idea of what it was like to be even mildly hungry or scared. Few college students anywhere do."
He found DePauw students to have a "deep social conscience," recalling for the magazine what a typical day was like for a student on a service trip to Guatemala. "Up at 5:30 a.m., breakfast at 6 a.m., a half-mile walk with a 30-pound backpack to the boat dock, a 16-mile ride across Lake Izabal in Mariscos Province, out of the dugout canoe for another mile hike with backpack into the jungle, set up a clinic in a church in a clearing, help pull yellow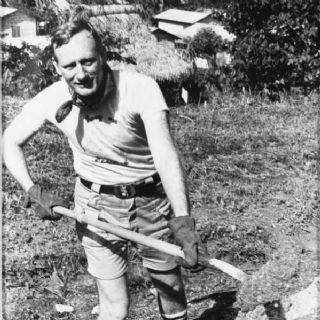 teeth out of ugly gums filled with pus and blood, pass out 20 rounds of worm pills to 50 kids who need them, work until dark, fall asleep on the floor of the village church, and then travel to another location for more of the same the next day." Lamar added, "This is so unlike anything many of these students had ever done that many of them didn't want to leave. The feeling of accomplishment is a heady one."
Frank Grasso, a 1980 DePauw graduate, went on one of the service trips. He told the Post in that 1978 feature, "Doing the work with Chaplain Lamar, assisting people ... well, you know, it just meant something to me. It stirred something in me I didn't know was there."
Fred Lamar's obituary can be accessed here.
Dr. Lamar was seen in a 1994 TV news report on a DePauw alumni service project in Raleigh, North Carolina:

[Download Video: "Alumni Reunite and Give Back" - 6506kb].
Back