Capturing Copenhagen
January 27, 2010
Andrew Maddocks '11, an ITAP intern with the University's Sustainabilty Initiative, is one of 13 DePauw students who attended the United Nations Climate Change Conference in Copenhagen. Below, he writes about their experiences in at the conference and links to blog entries from The Copenhagen Questions, written by Anthony Baratta '11, Taylor Cantril '11 and Maddocks, and Cornfields to Copenhagen, the DePauw Environmental Policy Project class blog. Maddocks' recap of the group's first week in Copenhagen can be read here.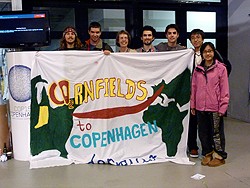 Thousands of the world's top climate change thinkers descended on Copenhagen, Denmark, from Dec. 7-18 for the United Nations climate change conference. Among the carbon-aware masses were 140 heads of state, treaty negotiators from every UN country, world-renowned scientists, activists, businessmen — and 13 students from the DePauw Environmental Policy Project (DEPP).
Here's a look back at our unique last week of classes and finals week. Located 4,357 miles from our frazzled classmates in Roy O. West Library, we networked with global climate leaders young and old, watched global climate policy drafting, participated in special events, joined and documented demonstrations, and maintained two blogs.
While global leaders are still figuring out the lasting impact of the summit's final document — called the Copenhagen Accord — our individual lessons are clearer.
We'll relish the value of our experience in Copenhagen for decades — even after exhausted train rides, endless hours standing outside in lines, and occasionally feeling helplessness against one of history's most challenging problems.
Five of us walked through the special United Nations customs line at the Copenhagen airport and into the city during the first week of negotiations. The other eight students and Kelsey Kauffman, part-time assistant professor of University studies, followed during week two, thanks to a generous gift from Pamela Peternell '68 and her husband, Ben.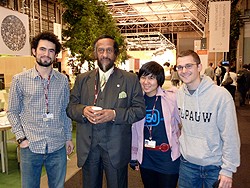 Khin Khin Hlaing '13, who received a scholarship from the Dutch government to travel to Copenhagen, Jay Wellik '10, Anthony M. Baratta '11, Taylor M. Cantril '11 and I balanced roles as policy analysts, activists, bloggers, reporters and logistics coordinators for DEPP during the slower-paced first week. (Pictured right: Cantril, Hlaing and Baratta pose for a photo with Rajenda Pachauri, chair of the Nobel Prize-winning Intergovernmental Panel on Climate Change.)
Baratta dug for the voices behind actions and controversial briefings. He also joined a U.S. and China youth collaboration dinner on Wednesday, Dec. 9.
"It was a great chance to see just how informed and how active the youth delegations are about climate change issues," he said.
The two delegations were divided in Copenhagen over strict emissions targets, technology sharing, and transparent emissions and economic data disclosure. But youth delegates hashed out differences in policy and ways to collaborate. Baratta also met with U.S. Secretary of Commerce Gary Locke and 11 other youth, six of them from China.
While Baratta collaborated with members of the global south, Hlaing — a citizen of Myanmar — shared her firsthand experience from the region.
She's worked to understand and spread actions that share, in her written words, "the voices of the youth, the vulnerable and the hopeless." Hlaing was practicing a pro-treaty dance demonstration with other youth before the conference even started.
Wellik dove in mid-week, talking to as many people as possible and immediately embarking on an energy tour of a Danish offshore wind farm. His multiple posts shared pieces of demonstrations and captured the occasionally circus-like Bella Center.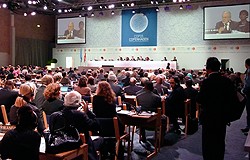 Cantril connected it all together – from public plenary sessions and policy briefings to demonstrations, to private reports from party meetings.
"Often sessions last for several hours, and it looks as if nothing is happening," Cantril said. "We've realized that more and more happens in private consultations."
He worked to understand the big picture, reconciling public posturing with private progress.
That kind of political clarity, Cantril said, gives the most accurate picture of the proceedings. It better informs non-governmental organization leaders coordinating actions directed toward politicians, and even refines campaigns back in the U.S.
I kept my Copenhagen lens on wide angle through much of the conference, looking for opportunities for color commentary. Every day was filled with informative meetings, unexpected demonstrations and new perspectives on the climate conference.
The four of us captured as much as we could, but reinforcements from DEPP came right on time. Eight other students from the DePauw Environmental Policy Project arrived the weekend of Dec. 12. While a demonstration pushing for a progressive climate deal pulsed outside the Bella Center, the class went straight from the airport to the Bella Center. Jet lagged and luggage laden, DEPP members trudged right into a meeting with Mark Helmke, a senior aide to Senator Richard Lugar.
On Saturday night, everyone caught up on sleep – some on a moored ship, others in host homes.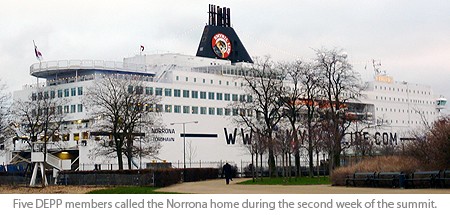 On Monday, Dec. 14, the group embraced the last day of full Bella access, packing into plenary meetings and writing final Bella blog posts.
Thousands more from around the world arrived at the same time as our group, so by Tuesday delegates and state officials pushed the conference over capacity. But after a semester of watching Web casts, learning the United Nations process, and researching specific countries and interest groups, the group was prepared for the second week — inside the Bella Center or not.
We focused on two alternative venues: The Klima Forum, an independent gathering at another conference center, and Øksnehallen, a drafty, converted factory set up as a base camp for non-governmental organizations.
Two enterprising students, Xinxin Liu '12 and Yi Wang '12, waited 13 hours over Tuesday and Wednesday trying to get into the Bella Center. They finally spent a few hours inside on Wednesday, leaving us in awe of their persistence.
Throughout the week, we found rewarding activities across venues, from an inspiring talk to a candlelight vigil, and reached out internationally.
After writing in the ship's cafeteria and through the evening in Øksnehallen, Baratta and Pucong Han '11 were published in China's main English language newspaper, China Daily. Sumeru Chatterjee '12 was selected to participate in a BBC Radio youth debate.
On Sunday, Dec. 17, our last night together as fall 2009 DEPP members, we gathered at the host home of Wellik and Alex Lopatka '12 for a farewell dinner. This was a moment to savor, the culmination of months of hard work and expectation. Final exams were over — some completed in the ship's cafeteria that morning — and an international agreement had been reached on Friday. Experts and media outlets were already battling about its effectiveness.
But there was no doubt among the DEPP members. These were two extremely memorable weeks. With more hard work, Copenhagen should be the foundation of environmental policy experiences to come.
Back