President Casey Announces Changes in Communications, Development
February 25, 2010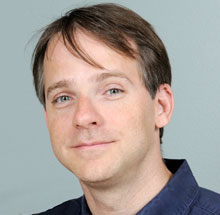 February 25, 2010, Greencastle, Ind. — Christopher Wells (pictured at left), who has been serving as interim vice president of admission and financial aid at DePauw University since last summer, will become vice president for communications and strategic initiatives, effective Monday, March 1, President Brian W. Casey said today. On that same day, as previously announced, Daniel L. Meyer, currently vice president for enrollment management at Saint Mary's College in northern Indiana, will join the DePauw administration as vice president for admission and financial aid.
Lisa Hollander, vice president for development and alumni relations since July 2004, will become vice president for resource planning and senior philanthropic advisor. Christopher Wells will also lead the alumni and development office on an interim basis as a national search is launched for a new, permanent vice president for
that division.
In her new role, Hollander will report to Brad Kelsheimer, vice president for finance and administration, while helping with the transitions within the alumni and development office.
The moves were among a series of important senior administrative changes presented by President Casey today.
Jon Coffin, a 2006 graduate of DePauw and the press secretary for U.S. Representative Shelley Moore Capito (R-West Virginia), will return to his alma mater to serve in the new Office of Communications as director of strategic communications.
"As vice president for communications, Christopher Wells will, first, coordinate all of those offices and administrative positions currently involved in some way with external communication," says Dr. Casey. "He will, thus, take those steps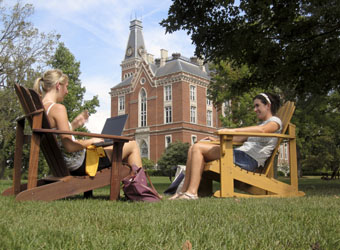 necessary to ensure that our Web page, alumni magazine, social networking efforts, media relations, and other communication vehicles are coordinated and focused intently on communicating a consistent and coherent message about this University. Christopher will also work with both the division of admission and financial aid and the division of development and alumni relations to make sure that we are communicating a clear message about the strengths and aspirations of DePauw across all those administrative offices that reach out to important constituencies beyond our campus."
The president adds, "Christopher will also help lead efforts to communicate and coordinate all those strategic planning efforts that have engaged faculty and staff. The intellectual life conversations, curricular changes, residential life changes, and administrative renewal efforts must be coordinated so that our efforts produce results that redound directly, profoundly, and quickly to the benefit of our students, our faculty, and future students. To aid in this effort, Bill Tobin, director of institutional research, and Bill Wagner, director of sports information, will report up to the new vice president of communications and strategic initiatives. Ken Owen will also report through the new VP, while continuing to provide leadership for institution-wide communications in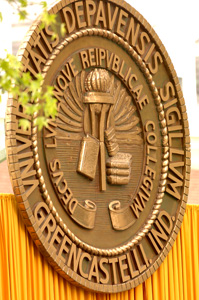 his role as executive director of media relations."
Lisa Hollander notes, "President Casey and I have been talking for several months about how to move the development and alumni relations division into the future. Together we have decided that a leadership change will allow Dr. Casey the opportunity to shape the team in the way that he wants, given the job that lies ahead. It has been an honor to have been part of DePauw's development and alumni relations division since 1994. My love and respect for this University, its history, and its very exciting future will always be at the forefront of my thoughts."
In an e-mail to the DePauw community, Casey stated, "These changes are significant for DePauw, but exciting. The faculty has brought significant energy and effort in our collaborative work to enrich and strengthen our intellectual life on the campus through curricular and other changes, and it is my responsibility to make sure that our administrative structures and staffing are designed to provide commensurate levels of effort and results."
Back