Coaches Brad Stevens '99 and Bill Fenlon in TV Spotlight
June 13, 2010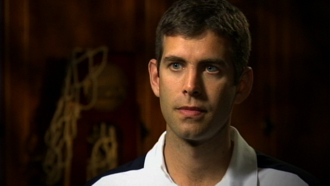 June 13, 2010, Greencastle, Ind. —

[Download Video: "Clip from Spotlight" - 2,205kb] "One of the things that DePauw really did, I thought, was teach me how to play a role, and that was incredibly important," says 1999 graduate Brad Stevens. The man who led Butler University to the national championship game of men's college basketball this year is the subject of a half-hour program, Spotlight, which is airing this month on FOX Sports Midwest. Among other things, Stevens discusses how he transitioned from being a high scoring player in high school to a role player at DePauw and how that shaped him. "I couldn't be more indebted to Coach (Bill) Fenlon and DePauw University for that."
The video crew came to campus to shoot an interview with Coach Fenlon, who says, "Brad was on some teams that were, you know, closer to that .500 level and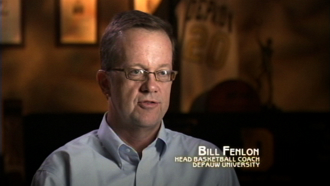 sometimes when you're not achieving at the rate you would like things can be a little bit difficult. But again, I think you learn from all of those experiences and Brad was forced to be a leader and deal with some success and handle some failure, and that's what the experience of being a player does for you."
Spotlight is running throughout the month. Check local listings, or visit FOX Sports Midwest online.
The 33-year-old Stevens was an economics major and Management Fellow at DePauw and earned all conference and academic all conference honors all four years. On April 13, he returned to his alma mater to deliver the Robert C. McDermond Lecture. Check out the online photo gallery.
Source: FOX Sports Midwest
Back