Management Fellow Brad Stevens '99 Returns "Home" to Address Today's DePauw Students
April 13, 2010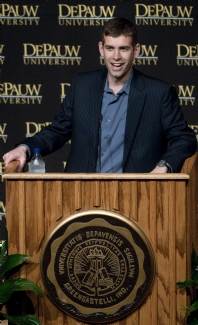 April 13, 2010, Greencastle, Ind. — "Surround yourself with the right people and focus on the right things and you can achieve well beyond what you thought you could," Brad Stevens told a crowd of about 875 people at DePauw University this morning. The head men's basketball coach at Butler University and a 1999 graduate of DePauw, Stevens presented the Robert C. McDermond Lecture eight days after taking Duke University to the wire in the NCAA Division I national championship game. His remarks were bookended by standing ovations from the crowd, which was dominated by DePauw students.
Today's event, which took place in Kresge Auditorium of the Green Center for the Performing Arts, was presented with support from the Timothy and Sharon Ubben Lecture Series.
Stevens, who was a Management Fellow and majored in economics at DePauw, recalled, "One of the most memorable things in my life was sitting at a Management Fellows lecture." With the current group of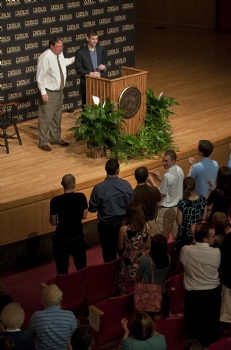 approximately 80 Management Fellows seated in the front rows of the hall, the coach recalled a visit to DePauw the 1990s by "two guys wearing flip flops and shorts," Tom Scott and Tom First. After graduating from Brown University they began their careers by operating a floating convenience store which served boats in Nantucket Harbor.
"They didn't necessarily want to follow the conventional path and they wanted to see if they could figure out a way for them to find their niche and be successful." Their ultimate creation -- a natural drink created by squeezing juices out of fruit -- turned into Nantucket Nectars. "Our passions weren't similar, but they had followed their heart," Stevens added. "There is a lot to be said for staying the course, being creative with your mind, but more importantly, once you decide something is right for you, jumping in with two feet and really trying to chase that without looking back."
About a year after receiving his DePauw degree Stevens took a similar path. He had a job in marketing with Eli Lilly & Company -- where he'd interned as a Management Fellow
-- but decided his passion was coaching. He left the pharmaceutical company for a volunteer coaching position and before long was on the Butler staff, eventually becoming an assistant for the Bulldogs. On April 5, 2007, he was named -- at age 30 -- to lead the Division I men's basketball program. In the three seasons since, his overall record is 89-15; no other NCAA Division I coach has won more games in his first three seasons.
Stevens told the DePauw audience today, "In retrospect I'm very fortunate to have made that decision, but it also didn't look like a great idea on a lot of days."
The coach was joined today by his wife and DePauw classmate, Tracy (Wilhelmy) Stevens '99. At about the same time Brad Stevens was leaving his Lilly job for the coaching world, Tracy -- who he was dating at the time -- decided to follow her dream of going to law school. Today she is an attorney. (at right: Tracy and Brad Stevens with their children, daughter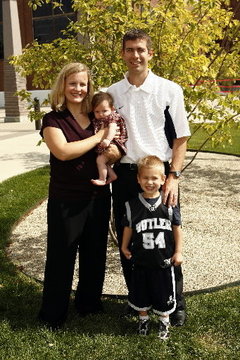 Kinsley and son Brady)
They were both students in an Introduction to Economics course, taught by Gary Lemon, who heads the Management Fellows program and emceed today's program.
At his lecture today, Brad Stevens recounted some things he learned from DePauw people, which remains, in his words, "among the best advice I've ever received." His grandfather, a graduate of the University, offered, "Never marry for money. You can borrow it cheaper." Mary Dixon, one of Stevens' economics professors, advised, "If you want to be any good at anything, you'd better start to do the things that you don't like to do."
The Butler coach said today, "There's always something that you need to do because it's the right thing to do and a difficult thing to do and you may not enjoy it as much. I appreciate her standing up and saying that, because sometimes we need to hear what we don't want to hear."
Bill Fenlon, who was Stevens' basketball coach at DePauw, and Mark Kannowski, professor of mathematics, conducted research (access it here) on whether it's advantageous for a team to intentionally commit a foul when up by three points late in a basketball game.
With two seconds remaining in the Final Four game with Michigan State and his team up by three, Stevens had his team foul the Spartans to prevent a potentially game-tying 3-point shot. He says that the work of Fenlon and Kannowski came into play as he pondered his strategy.
After the game, the Tiger coach checked in with his former player. "The best text message I received -- and I've received probably 200 after every NCAA tournament win -- was, 'You finally listened at age 33,'" Stevens said to laughter from the audience.
The 1999 graduate noted that he enjoyed many of his DePauw courses, but cited a class on servant leadership, taught by Stuart Lord, as one that resonated the most. He learned, "The best way to lead is to step up and do something for somebody else."
Stevens earned all-conference and academic all-conference honors as a basketball player at DePauw. You can learn more about his college playing career here.
Stevens says to succeed in life one must constantly work and strive to improve. "I have certainly tried to study it and be as active a learner as possible, because one of the things I've learned about coaching -- and I've learned this from the best in the country -- is that if you stop learning, if you stop reading, if you stop thinking, you're getting caught."
The Bulldog mentor told of how his team's magical season began with a trip to Italy, and of the values that constitute what's come to be known as "The Butler Way." Last week, Stevens signed a 12-year contract to stay at the Indianapolis university.
"I can't tell you how important it is to work for an administration that believes in you and how empowered you feel every day," he said today. "It's unbelievable. I'm so thankful to work for the people that I do at Butler. And as we move forward, I'm just lucky to be a small part of this."
Stevens asserted, "I don't have a roof on where we go. If we win the national championship but one guy doesn't graduate, it's not good. It's not okay. You gotta do everything you can to make sure that your players have an exceptional student-athlete experience while learning what it takes to have success after school, because that's what matters."
With his coach and many of his former professors and DePauw friends in the audience, along with a large and appreciative group of DePauw students, Stevens noted, "I really appreciate and am honored to come back to a place we called home for four years and had a great experience, and more important than anything, a place that prepared us for life after school."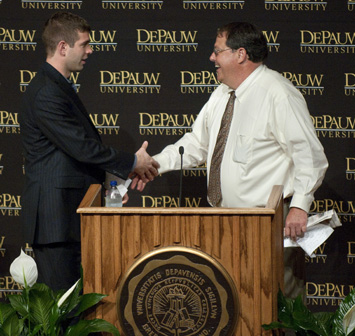 Established as an honors program in 1980, the Management Fellows Program is open to students in any major who are interested in pursuing careers in the for-profit and not-for-profit sectors. In addition to completing coursework and a major in the liberal arts, Management Fellows complete a semester-long, paid internship in top national and international settings. Management Fellows graduates have gone on to distinguished careers in top companies and organizations throughout the country and world. They also have been accepted for graduate and professional study at some of the nation's most prestigious institutions, including Harvard, Stanford, Northwestern, University of Chicago, University of Pennsylvania, Dartmouth, University of Michigan and M.I.T.
Back