Megan Soultz Earns Prestigious NCAA Postgraduate Scholarship
August 10, 2010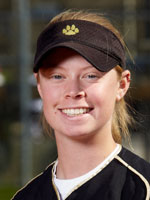 August 10, 2010, Greencastle, Ind. — Megan Soultz, a May graduate and three-time softball all-America selection has been selected as an NCAA Postgraduate Scholarship recipient. She is the 18th DePauw student-athlete to earn the distinction since 1968.
A biology major at DePauw, Soultz had a 3.60 cumulative grade point average at the time of her nomination. The Carmel, Ind., resident was a three-time ESPN The Magazine Academic All-District selection and named to the Southern Collegiate Athletic Conference Academic Honor Roll all four years.
In January 2009, while serving a Winter Term internship at a New York City firehouse, she was among the first responders to the US Airways crash on the Hudson River.
In her four years as a pitcher for the Tigers, Soultz posted a 113-25 record with a 1.22 earned run average and was part of Tiger teams which recorded a 149-29 four-year record including the only four NCAA postseason appearances in school history with fifth-place finishes in 2007 and 2010. She was a three-time Southern Collegiate Athletic Conference Pitcher of the Year and a 2008 finalist for Honda Division III Female Athlete of the Year.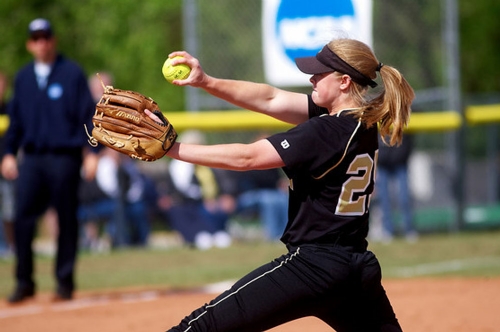 The holder of nearly every pitching record at DePauw and in the Southern Collegiate Athletic Conference, Soultz finished her career as Division III's all-time leader with 151 pitching appearances and 148 pitching starts and was tied for second with 115 complete games. Her 113 wins is tied for third in Division III history, while her 48 shutouts are fourth.
The NCAA awarded 58 postgraduate scholarships to student athletes in spring sports including men's and women's golf, men's and women's lacrosse, men's and women's tennis, men's and women's outdoor track and field, baseball, men's volleyball, softball, women's rowing, and women's water polo. Soultz is one of only 29 female student-athletes earning the $7,500 scholarship.
In addition to the spring-sport honorees, 116 postgraduate scholarships are given to student-athletes participating in fall and winter sports in which the NCAA conducts championships or participates in as an emerging sport. The NCAA awards 174 postgraduate scholarships annually to student-athletes who intend to continue academic work beyond the baccalaureate degree as a full-time or part-time graduate student.
To qualify for an NCAA postgraduate scholarship, a student-athlete must have an overall grade-point average of 3.200 (on a 4.000 scale) or its equivalent, and must have performed with distinction as a member of the varsity team in the sport in which the student-athlete was nominated. The student-athletes chosen have showed dedication and effort while performing both on and off the field at a high level that has brought credit to the student-athlete, the institution and intercollegiate athletics.
Nomination information is sent to faculty athletics representatives for fall sports in September, for winter sports in January, and for spring sports in March. Selections are made three times each academic year. The nomination must be submitted by the faculty athletics representative during the appropriate seasonal category for the sport using the online scholarship submission system. Candidates are initially reviewed by seven regional selection committees, and the final award recipients are selected by the NCAA Postgraduate Scholarship Committee.
For more information on the NCAA Postgraduate Scholarship, visit www.ncaa.org and click on Academics and Athletics, then Education.
DePauw's NCAA Postgraduate Scholarship Recipients
Year
Student-Athlete
Sport in which scholarship was awarded
1968
Bruce Montgomerie
football
1969
Tom McCormick
men's basketball
1970
Richard Tharp
men's basketball
1972
Steve Overman
men's basketball
1973
Gordon Pittenger
men's basketball
1977
Mike Kinney
men's track and field
1978
Mark Frazer
football
1981
Jay True
football
1985
Rich Bonaccorsi
football
1986
Tony de Nicola
football
1986
Phil Wendel
men's basketball
1988
Nancy Gritter
women's swimming and diving
1992
Tom Beaulieu
football
1998
Charee Campbell
women's swimming and diving
1999
Susan Bender
women's basketball
2001
Adrienne Gough
women's cross country/track & field
2003
Katie Reis
women's swimming and diving
2010
Megan Soultz
softball
Follow DePauw Athletics on Twitter | Become a Fan of DePauw Athletics on Facebook
Back