Slate Cites DePauw Professor's 1946 Research on Quicksand
August 24, 2010
August 24, 2010, Greencastle, Ind. — In past generations, children were fearful of quicksand, but it's not even on the radar of today's kids, according to a Slate story which cites the more than 60-year-old research of a DePauw University professor. The story notes that "quicksand has all but evaporated from American entertainment -- rejected even by the genre directors who once found it indispensable."
Daniel Engber reports that fewer than 1% of movies made today use quicksand as a plot devic, compared with about 3% of the films issued in the 1960s. In days gone by, quicksand struck fear in the hearts of adventure heroes and their young fans, even though it's been determined that "a person trapped in quicksand would sink only to his armpits. This point has, in fact, been made many, many times before -- even in the pages of Nature itself ... In another paper, from 1946, a researcher at DePauw University made quicksand in the lab and placed in it a wooden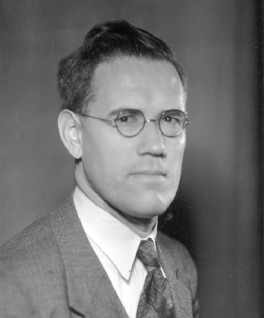 figurine with lead feet. It sank to the elbows. Indeed, the sheer impossibility of being sucked under quicksand had been inscribed in standard textbooks by the 1960s."
The research in question, "The Lifting Effect of Quicksand," was conducted by Ernest Rice Smith, who was a professor of geology at DePauw from 1921 to 1947, when poor health forced him to retire. Smith, who was known as "Rock," headed the geology department from 1936 to 1946. He passed away in 1952. (top photo: Professor Smith with two DePauw students; at right: a portrait of the geologist)
Access the Slate article, "Terra Infirma: The rise and fall of quicksand," by clicking here.
Back