Professor E.R. "Rock" Smith Passes Away
March 21, 1952
March 21, 1952, Greencastle, Ind. — Ernest Rice Smith, a professor of geology from 1921 to 1947 at at DePauw University where he was affectionately known as "Rock," died today in Ithaca, New York. Smith taught at DePauw from 1921 through 1947, when poor health forced his retirement. He headed the geology department from 1936 to 1946. (top photo: Professor Smith seen examining a rock in the 1947 Mirage)
A graduate of Oberlin College, Smith taught at Fisk and Cornell and at the Sorbonne in Paris. He also served as a petroleum geologist for the Sinclair Oil Company in Panama and Costa Rica in 1917-18.
The professor was a fellow in the Geological Society of America and a member of the American Association for the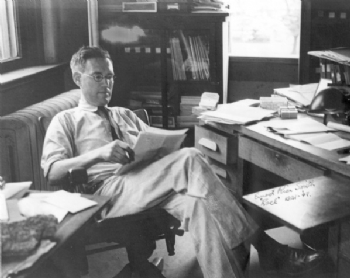 Advancement of Science, Phi Beta Kappa, Sigma Xi, Crystallographic Society of America, Geological Society of France and the Academies of Science of Indiana, Ohio and Michigan.
Smith was a trustee and past president of the Paleontological Research Institution at Ithaca.
Access his 1946 research, "The Lifting Effect of Quicksand," by clicking here.
Back