Adam Brok '10 Completes 365-Mile Walk for Charity
August 26, 2010
August 26, 2010, Greencastle, Ind. — "You should help people because it's the right thing to do," says Adam Brok, a 2010 DePauw University graduate who has now completed his 365-mile walk across Pennsylvania for charity. Brok set out from Pittsburgh on August 1 to raise funds and awareness of homelessness and hunger, and finished his journey yesterday in Philadelphia. He says, "We all have something to contribute. It's what we should do as humans."
Jim Lewis writes in Pennsylvania's Middletown Press and Journal, "Upon graduation this spring from DePauw University, an Indiana liberal arts college, Brok, 22, decided to do something. He would have donated money to charity, but he had just graduated, had no job and had precious little money. So this is how he chose to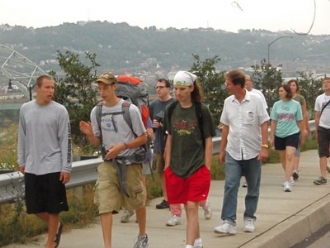 help: He would walk across Pennsylvania, his home state, to raise money to combat, and draw attention to, hunger and homelessness ... During his 25-day trek, he slept at the homes of food bank workers and their friends, and spoke at college campuses, at churches, and to anyone along the way who would listen, about the hunger and homelessness he had witnessed."
Brok, whose walk took him to Middletown on August 17, tells the newspaper, "We all have the potential to help people. It makes this world a better place."
Read the latest story here, as well as another recent piece. Learn more about Adam Brok's journey via his blog.
Back