David R. Dietz '11
September 24, 2010
2010 has been a busy year for David R. Dietz '11. Outside of his coursework, there was a White House internship and a trip to Uganda to build a schoolhouse. Now the Indianapolis native is back in Greencastle for his senior year, which he will spend as executive vice president of DePauw student government. You know that saying about idle hands? There's not much to worry about with David.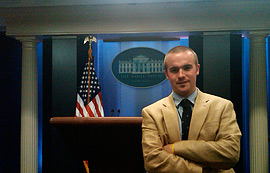 Dietz ended up at the White House this spring with a little help from a recent alumna. Elisabeth "Bess" W. Evans, a 2007 graduate of DePauw and recipient of the Walker Cup, returned to campus later that year to give a speech. At the time, Evans was also working on an underdog presidential campaign and welcomed any interested students to join her. Dietz took advantage of the offer and spent Winter Term 2008 in Iowa, helping to propel Obama to an upset victory in the state's caucuses.
One year after their winter in Iowa, Dietz and Evans again crossed paths, this time in the East Wing of the White House. After the general election, Evans had taken a job in the White House Visitors Office. Dietz, a DePauw Media Fellow, was accepted into the White House Internship Program and placed in the Social Office, where he helped plan the president's and first lady's daily events.
"We were responsible for handling the logistics for every event inside the White House, including press statements, bill signings, receptions and concerts," says Dietz, pictured left with Evans. "The president and first lady both keep extremely busy schedules, so we were constantly handling multiple events at a time. The biggest event that we organized while I was there was a state dinner honoring Mexico.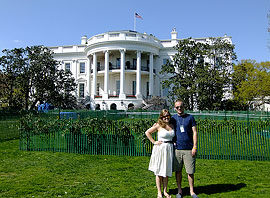 Beyoncé performed, and there were lots of guests, including the Mexican first family. We had to follow a whole list of formalities and protocols. It felt really good to see all that work come to fruition in what was a very successful state dinner.
"It never got old walking to work every day. Working in the White House gives you this extreme sense of history. You see it on television all the time and it seems like a distant place, but when you're there, you really start to appreciate just how much has happened there. So many people who shaped the course of human events have walked those halls and sat in those chairs. It was humbling. I was lucky in that I got to see the president quite often, and that never gets old, either. You start to appreciate the task he's faced with and how difficult it is to run a country."
"No matter how you feel politically, both the first Lady and the president are genuine and respectful and intelligent," Dietz adds. "They were a delight to work for."
Following his internship, Dietz traveled to Uganda to represent Building Tomorrow, an organization focused on educational equality in sub-Saharan Africa.
"Only 54 percent of Ugandan children ever graduate from primary school," Dietz says. "The country is faced with a lot of big challenges, such as disease and poverty, and education really cuts across all those issues. For example, a young girl's likelihood of contracting HIV is cut in half by simply attending a day of primary school."
Dietz had long been involved with the Indianapolis-based organization through campus fundraisers, but the trip was his first chance to see and do its work firsthand. For two weeks, he lived in a small village and helped with construction of a schoolhouse. Having just worked in the White House, the trip to one of the poorest areas of the world gave him some perspective on life.
"I was in the center of Western influence and power, and to immediately travel to an environment where there's no clean water and limited access to electricity teaches you how little you really need to be happy," Dietz says. "You don't need all the pomp and circumstance to live a meaningful life."
Much of Dietz's time at DePauw can be described politically. He's a past president of the DePauw College Democrats. He introduced Obama campaign manager David Plouffe at his Ubben Lecture in February 2009, and he helped lead a discussion between Howard Dean and Karl Rove before their Ubben Debate in September 2009. And he's the executive vice president of DePauw student government. But there's one tiny outlier: he's majoring in sociology.
"I love politics," Dietz says. "It's my hobby. I read political news constantly, and I believe politics can positively impact people's lives. But as a student, I'm much more interested in the impact of institutions on people's lives. Sociology allows me to examine that side of politics - how people interact with the world. And it makes me like politics even more. I can appreciate what it does for people and what it can't ever do for people."
In his role as executive vice president, Dietz understands the limits to what his office can achieve, but he says there is also great opportunity to improve the campus experience for current and future students.
"Student government is really about making sure we understand what the student body wants, and establishing a relationship in which students feel that we can work for them," Dietz says. "It's a tremendous honor to be in this position."
Back