Cover of December Indianapolis Woman Spotlights Shannon Forsell '88
December 9, 2010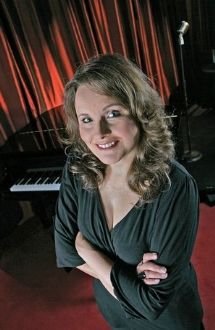 December 9, 2011, Greencastle, Ind. — "Everyone has a place where they express themselves best, and for me, it's the stage," Shannon Forsell tells Indianapolis Woman. Forsell -- singer, artistic director of the Cabaret at the Columbia Club, and 1988 graduate of DePauw University, is featured on the cover of the magazine's December 2010 issue. "Music creates such an amazing connection between people," she states.
The story notes how Forsell developed a love of music at an early age. "After high school, Shannon enrolled at DePauw University, where she studied communication and music performance," writes Sheri Coner Eastburn. "As a budding young performer, she daydreamed occasionally about leaving her home state for a different stage -- maybe in New York. But that goal changed when she met David ['89]. It was definitely one of those love-at-first-sight moments, Shannon says with a smile. Since they were both in college, David transferred from Northwestern University to DePauw so they could be together. And three years later, they married."
The text details how David Forsell, who is president of Keep Indianapolis Beautiful, deals with a rare health condition with constant support from his wife. Shannon says David is "absolutely the nicest guy in the world." She tells the magazine, "He's got the most fantastic outlook on life and the most optimistic spirit."
Indianapolis Woman states that Shannon Forsell has "reinvented" her arts organization,
which was formerly known as American Cabaret Theatre. "There's a growing buzz about its impressive niche in the arts community," Eastburn writes.
"Shannon has an extraordinary combination of talents," Barbara Weaver Smith, the Cabaret's board chair, tells the magazine. "We can put her on a stage, and she's a huge draw. But she also has wonderful business savvy. She has brought extraordinary talent to Indianapolis by building connections around the world."
The piece also notes that Forsell has recorded a new compact disc of Hoagy Carmichael songs, The Nearness of You.
You can access the December issue online by clicking here.
Learn more about Shannon (Gath) Forsell in this previous story.
Back