University is Closed; Travel Warning Issued
February 1, 2011
[UPDATE 2/1 3:12 p.m.: A Level 2 travel warning has been issued for Putnam County, effective at 3 p.m. today, meaning conditions are threatening to the safety of the public. Only essential travel is recommended (i.e. travel to and from work for those supporting essential operations, and emergencies). Further updates will be forthcoming.]
February 1, 2011, Greencastle, Ind. — Ice coats the ground, roads and trees on the DePauw University campus, which is officially closed today because of the severe weather emergency declared last night. A second wave of treacherous weather is in the forecast for this afternoon, and may include an additional inch or more of ice. A Winter Storm Warning remains in effect for much of Indiana. (photos taken this morning by Linda Striggo)
Monitor up-to-the-minute conditions by accessing Weather.com's latest forecast for Greencastle.
Although classes have been canceled, the Hub (located in the the Memorial Student Union Building) and the Den (in Longden Hall) are providing food service today. The fitness center in the Lilly Physical Education Center will be available from 10 a.m. to 3 p.m. (a DePauw ID is needed to enter the building). Roy O. West Library is also available until 3 p.m. today.
Crews are working to keep campus sidewalks passable, however conditions are extemely slick and the freezing rain and accumulating ice are creating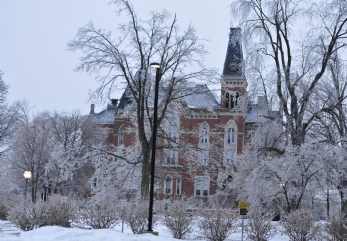 potentially dangerous conditions. It is recommended that individuals stay inside if at all possible.
A heavy ice storm has the potential of downing trees and power lines. Public Safety encourages students to charge personal electronics, collect personal necessities and gather warm clothing in the event of power outages.
Some snowfall is expected to follow the freezing rain early Wednesday morning, and blowing snow may present travel problems tomorrow.
Monitor this page for updates.
The DePauw community will also receive updates via e-mail. Information on winter emergencies can be found at DePauw's emergency management page.
Individual questions may be directed to police@depauw.edu.
Back