DePauw's Operatic Double Bill
February 9, 2011

The 2011 DePauw Opera featured two favorites – The Old Maid and the Thief by Italian-American composer Gian Carlo Menotti and Maurice Ravel's L'Enfant et les Sortilèges (The Child and the Magic Spells). Both operas were performed in English and featured four different casts. Nearly 100 students were involved in all aspects of the productions.

Performances took place at the Judson and Joyce Green Center for Performing Arts Thursday, Feb. 10 through Sunday, Feb. 13.

The Old Maid and the Thief is a one-act opera that was written and premiered in the same year – 1939. Menotti wrote the libretto himself – his first in English. It was one of the earliest operas composed specifically for the radio. The opera is divided into 14 scenes and tells the twisted tale of morals and evil womanly power.

L'Enfant et les Sortilèges (The Child and the Magic Spells) was composed by Maurice Ravel, and the libretto was written by French novelist Sidonie-Gabrielle Colette. Written in 1925, it's an operatic story about a child's fragile emotions that highlight the strange and confusing thoughts that the child's dream world defines.

Students began their involvement in the DePauw Opera during Winter Term 2011. They worked both on and off stage in preparation for the production.
Case M. Nafziger '11 played the role of Bob in The Old Maid and the Thief. Bob is a homeless wanderer who is taken in by the Old Maid and her maidservant – essentially on the basis that he's young and attractive. Laetitia falls deeply in love with Bob upon meeting him. "I had a lot of fun with Emily A. Smith '13, who was Laetitia in the Friday and Sunday cast – playing with our dual relationships as Bob and Laetitia – and as 1939 DePauw students," Nafziger says.

"The Old Maid and the Thief differs from many operas because it was originally written to be performed as a radio show, and that's how our version was staged," Nafziger says. "It takes place in a radio studio at DePauw in 1939. So, we played DePauw actors who are acting as radio performers. Hopefully, it was fun for the audience to watch us play two roles – the college student and the character in the opera.

"Since we performed the show for an audience, our actions were limited to what we could do in front of a microphone, so there was a higher need for contrasting facial expressions and hand and arm gestures. Diction needed to be precise, and the intentions clear and interesting," Nafziger says.

Sara D. Horton'12 says the operas are beautiful from both musical and visual perspectives. "The DePauw Opera is a wonderful way to see the exceptional level of talent that DePauw music students possess – both instrumentally and vocally.

Horton played Laetitia in The Old Maid and the Thief. "She (Laetitia) is a very sassy and manipulative maid, but underneath, she has some real fears," Horton says. "It was a great deal of fun to play such a complex character, especially with such beautiful music.

"Participating in the Winter Term opera project reinforces so many skills – including acting and musical. It's a gift to spend so much time dedicated to one role and to becoming a better musician."

Both operas were produced and directed by Keith A. Tonne, associate professor of music, and the DePauw Orchestra accompanied the productions under music director Orcenith G. Smith, professor of music.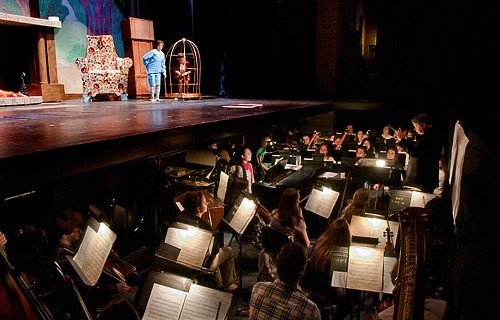 Duane G. Skoog, technical director for the Green Center for the Performing Arts, designed the sets. Caroline L. Good, costume shop supervisor and part-time instructor of communication and theatre, created fantasy costumes for L'Enfant et les Sortilèges.

The DePauw Opera presentation of The Old Maid and the Thief and L'Enfant et les Sortilèges was generously underwritten by Elaine Showalter Smith '36. Mrs. Smith is also one of the benefactors of the concert organ in Kresge Auditorium, in honor of her late husband, J. Stanford Smith '36. Mrs. Smith is a graduate of the DePauw School of Music and majored in piano and minored in organ and mathematics.

Winter Term takes place each January between fall and spring semesters. It reflects DePauw's serious commitment to non-traditional, experiential learning. Winter Term is a time of adventurous, intellectual exploration in an atmosphere with a reduced emphasis on grades.
Back