Mike Wanchic '74 Back on the Road with John Mellencamp
February 19, 2011
February 19, 2011, Greencastle, Ind. — "It was a major bummer to discover that the man behind Jack & Diane does not do phone interviews in advance of shows," begins a story in the News Journal of Wilmington, Delaware. "But it was a nice consolation prize to discover the man who came up with the tune's unforgettable guitar hook, Mike Wanchic, was willing to serve as John Mellencamp's mouthpiece. As Mellencamp's bandleader for more than 34 years, Wanchic (who came up with the little guitar part that comes before the handclaps) has become a master at handling Mellencamp's dirty work, which often requires checking his ego at the door of the studio or the foot of the stage."
The piece previews Monday's Mellencamp concert in Philadelphia. Wanchic, who serves as Mellencamp's musical director as well as guitarist, is a member of DePauw University's Class of 1974.
"John's a songwriter," Wanchic tells the newspaper. "He has incredibly good instincts. My job is to lay stuff on him. I'm a melody writer. I think democracy is a bad thing in rock and roll. I think you have to have creative vision, and someone has to see that thing all the way through."
Wanchic has been playing with Mellencamp for more than 30 years, co-produced a number of his albums, and appeared in clips that were staples in the glory days of music videos. (photo, l-r: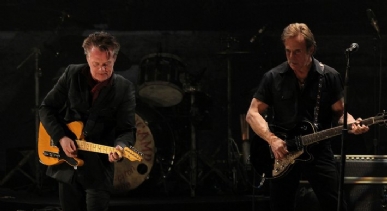 Mellencamp and Wanchic on stage in Indianapolis; November 2010)
"I guess I don't think about it a great deal," Wanchic says. "Nobody thinks a thing of it. It's just part of the fabric of my daily life. We were there at the very beginnings of MTV, and I think it provided people with a lot of exposure to an audience. It just doesn't exist anymore, in the same way that physical product doesn't exist anymore."
Access Peter Bothum's full story at the News Journal's website.
Michael Wanchic has also produced a variety of other musicians, including Cowboy Mouth, Blessid Union of Souls, and James McMurtry. In a December 2006 interview, he called DePauw, where he played football, "a great experience."
Back