AJ Feeney-Ruiz '04 Serving as Consultant to Internet Security Firm
June 20, 2011
June 20, 2011, Greencastle, Ind. — AJ Feeney-Ruiz, a 2004 graduate of DePauw University, has joined Leonard-McDowell, an Indianapolis-based Internet security firm, as a summer management consultant. A practicing public relations professional in both the public and private sector, Feeney-Ruiz will assist Leonard-McDowell by assembling a public relations plan that assists the company's efforts to connect and grow local startups in the technology field.
Feeney-Ruiz recently served as deputy chief of staff and spokesman for Indiana's Secretary of State. Earlier this month he announced his candidacy for the Indianapolis City-County Council.
"I hope to create a plan with Leonard-McDowell that can be used for years to come and help in its ongoing mission to provide excellent solutions with integrity," says Feeney-Ruiz. "I was particularly drawn to their desire to help identify and grow local startups and share this plan with their clients and partners."
A political science major at DePauw, Joseph Adamje "AJ" Feeney-Ruiz is completing work on an M.B.A. from Indiana University's Kelley School of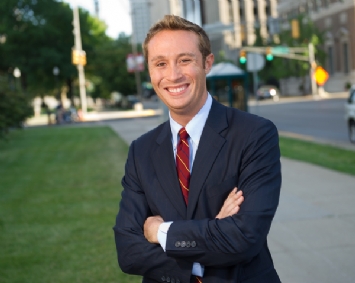 Business and a law degree from IU. He will assist in day-to-day operations at Leonard-McDowell related to public relations and use that experience to help craft a final business plan focused on how to best use public relations and marketing at the firm. As a requirement for this project, he will complete 120 consulting hours.
"We're excited to have AJ on board," states Leonard-McDowell principal Frank Leonard. "It's rare that an opportunity like this comes around, and we're happy for a chance to provide an immersive learning experience to solve real world problems and grateful to the Kelley School of Business for allowing him to complete his coursework by assisting us in our mission."
Visit Leonard-McDowell online.
Back