Jordan Stefanov '11
June 23, 2011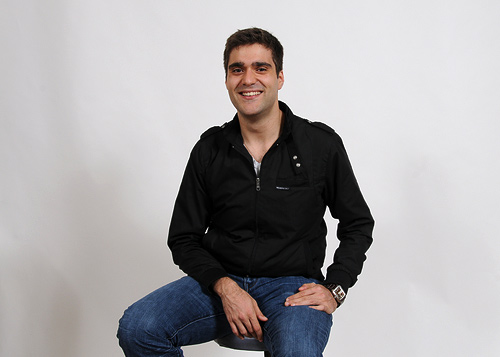 DePauw brings students from many countries to our campus, and many DePauw students in turn go abroad for work or study. Jordan S. Stefanov '11 stands proudly in both categories. In a few short years, Stefanov traveled halfway around the world from his home in Bulgaria to come to DePauw, then halfway back to begin a career in London.
Originally from Kazanlak, Bulgaria, Stefanov first heard about DePauw from a friend. He came to Greencastle not knowing what to expect from the school and the people, but any homesickness quickly faded.
"DePauw definitely kept me busy with academics and extracurricular activities, so I never really had the time to think about home," he remembers. "Plus, people in the Midwest were so welcoming and warm that I actually felt at home. I spent many of the breaks with the family of one of my best friends, and they treated me as their son."
Stefanov begins the next leg of his global tour in this summer in London, where he joins PricewaterhouseCoopers' management consulting graduate program. There, he'll be able to put his major in economics to use, but Stefanov believes the full spectrum of his DePauw liberal arts education will play an equally important role.
"My courses in economics and mathematics definitely helped me shape my analytical thinking, but other courses, such as Interpersonal Communication and Ethical Theory, helped me develop strong communication and thinking-outside-the-box skills," Stefanov says. "I loved each and every one of my professors. They were always there for me, and they always challenged and encouraged me to work harder and to achieve more and more."
Besides his coursework, Stefanov credits membership in a number of campus programs and students organizations for preparing him for his next step.
"My involvement in the Information Technology Associates Program (ITAP), Management Fellows Program, International Student Association and International Student Advisory Board pushed me out of my comfort zone, and I learned how to interact with people of various backgrounds," he says. "Those were also a great way to develop leadership and problem-solving skills."
Stefanov created plenty of opportunities to put those skills to the test as a student. Through ITAP, he worked with John "Jack" E. Morrill, professor emeritus of economics and mathematics and director of the Rector Scholarship Program, to develop an online information hub for DePauw's historic Rector Scholarship. A Rector Scholar himself, Stefanov says he saw the project as a way to return the favor to the program.
"I wouldn't have been able to attend DePauw had it not been for this scholarship," he says. "In a way, I felt that by getting involved, I would be able to give back to DePauw."
"I also learned more about the history behind the Rector Scholarship program," Stefanov adds. "More importantly, however, I had the chance to interact with one of DePauw's most famous professors. Jack truly is a legend around this campus, and he is a great guy to talk to. He is passionate and cares about maintaining the program's prestige."
This year, Stefanov's appreciation for his time at DePauw proved to be contagious. As a final gift before graduation, he and Minnu Paul '11, from Chennai, India, rallied more than 90 percent of the graduating international students to contribute to DePauw's 2011 Annual Fund.
Back