National Security Preparedness Group, Co-Chaired by Lee Hamilton '52, Issues Report
June 23, 2011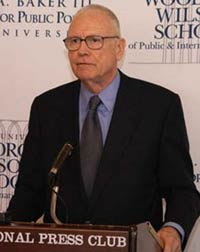 June 23, 2011, Greencastle, Ind. — "As we approach the tenth anniversary of the terrorist attacks on September 11th, we face a threat from al Qaeda that is more diverse and more complex than ever," says Lee Hamilton, veteran statesman and 1952 graduate of DePauw University. "To face this challenge, U.S. policy will require strong leadership and coordination, and the Administration should lead this effort across government."
Today, the Bipartisan Policy Center's (BPC) National Security Preparedness Group (NSPG) -- which is co-chaired by Hamilton and Thomas Kean (who also co-chaired the 9/11 Commission) -- released a report, "Preventing Violent Radicalization in America." The document "makes recommendations to better prepare the United States for the evolving threat posed by violent extremists influenced by al Qaeda's ideology," according to an announcement. "The recommendations aim to inform ongoing policy development by the Administration and Congress to address this growing challenge. Last September,
NSPG released a report, 'Assessing the Terrorist Threat', which concluded that the lack of a coherent approach towards domestic counter-radicalization has left the nation vulnerable to a diversifying and intensifying threat." (at right: 9/11 Commission co-chairs Kean and Hamilton deliver their panel's report to President Bush; July 22, 2004)
The new report's key recommendations "include the need for the White House to be the single point from which counter-radicalization policy is led and coordinated. The report also recommends that a lead department or agency be designated for each policy function – training, outreach, messaging, capacity-building, and information-sharing -- to oversee its implementation across the government."
Read more by clicking here.
A Democrat who served 34 years in the U.S. House of Representatives and also co-chaired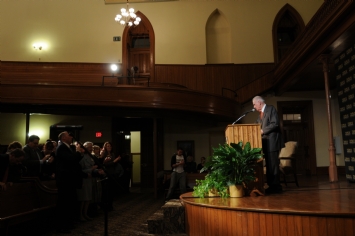 the Iraq Study Group, Lee H. Hamilton is now the director of the Center on Congress at Indiana University. Hamilton returned to DePauw on March 15 to address "The U.S. Role in the World After Afghanistan and Iraq" in a Timothy and Sharon Ubben Lecture. A summary including video clips can be accessed here.
As an undergraduate, Hamilton majored in history and was a star player on the Tiger basketball team. He was inducted into the Indiana Basketball Hall of Fame in 1982 and the DePauw Athletic Hall of Fame in 1987.
Back