Doug Smith '68 Will Discuss Happiness in Connecticut Speech
September 15, 2011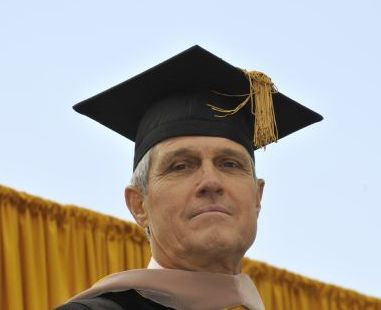 September 15, 2011, Greencastle, Ind. — "Doug Smith, a former New Canaan resident and business leader who wants to make a difference in the world by teaching, writing, advising and by sharing what he has learned and by learning from others, will explore the subject of happiness with the Senior Men's Club at their Friday, Sept. 23 meeting," reports Connecticut's New Canaan Times. It adds, "Smith teaches a course on happiness at DePauw University and at Canyon Ranch and will share thoughts on the 'Skill of Happiness.' Happiness is probably the most fundamental and elusive of human quests. Smith says it is a skill -- and like any skill it can be enhanced and refined."
A 1968 graduate of DePauw, "During the past 15 years Smith has served as CEO of Kraft General Foods Canada, chairman/CEO of Borden Foods Corporation and most recently chairman/CEO of Best Brands Corporation," adds the newspaper. "He currently works with individuals and organizations with a focus on emerging companies, CEO's who are eager to learn and enhance their leadership skills and not-for-profit organizations."
Learn more at the Times' website.
Smith's course, Choices That Lead to Happiness: Building a Considered and Consequential Life, has been a popular Winter Term offering at DePauw.
"I love this University," Douglas A. Smith declared on May 18, 2008, as he was awarded an honorary Doctor of Business Administration degree by DePauw. "It enabled me to find a friend in French class. More profoundly, it enabled me to find a friend deep, deep inside myself. May it enable you to do the same."

[Download Video: "Douglas A. Smith '68" - 10,622kb]
Back