Three Distinguished Alumni Receive Honorary Degrees
May 18, 2008
Also: 598 Undergraduate Degrees Awarded at DePauw's 169th Annual Commencement; Keynote Address by Debbie Bial and President Bottoms; Order Your Commencement DVD/ Commencement Photo Gallery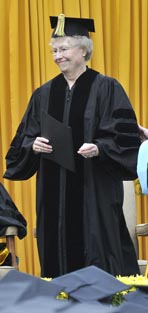 May 18, 2008, Greencastle, Ind. -

[Download Video: "Carolyn T. Jones '58" - 7002kb] "Over the years, I've discovered that much of what I needed to know I learned at DePauw," 1958 graduate Carolyn Tisdel Jones said at today's 169th annual commencement. Jones, associate executive vice president for academic affairs emerita at Purdue University, was one of three distinguished individuals to be presented with an honorary doctoral degree during today's ceremonies. The other honorees were Douglas A. Smith '68, chairman and chief executive officer of Value Creation Partners and Best Brands Corporation, and the Reverend George A. Purnell '71, senior pastor at the First United Methodist Church of Bloomington, Indiana.
"It was here that I truly learned how to learn," Jones told the crowd that filled East College lawn. "My horizons were expanded in so many areas. For me, it was a period of great awakening."
Jones, retired assistant dean of women in Purdue University, received a Doctor of Pedagogy degree for her many contributions to academia over a 45-year career.

[Download Video: "Rev. George A. Purnell '71" - 7819kb] "The faculty here prepared me to think critically," Rev. Purnell said after receiving an honorary Doctor of Divinity degree. "They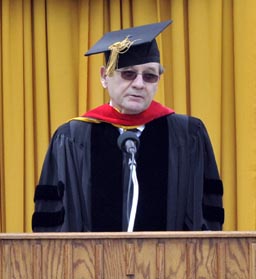 prepared me to be an engaged and informed citizen. The faculty here did not let me settle for being a critic of social policy and public leadership alone; they required me to propose solutions, to propose answers to the many myriad problems our culture faced, not be content to complain," said Purnell, who recalled the assassinations of Martin Luther King Jr. and Robert F. Kennedy during his freshman year, and the ongoing turmoil created by the war in Vietnam.
"I have been very proud of being a DePauw graduate," said the theologian who went on to complete a master's degree in public administration at the University of North Carolina at Chapel Hill and earn a master of divinity degree from Christian Theological Seminary in Indianapolis. "I can't imagine that any other institution of higher learning in the United States more effectively equips its students to be responsible and engaged citizens of the world."

[Download Video: "Douglas A. Smith '68" - 10,622kb] "I love this University," Doug Smith declared after being awarded an honorary Doctor of Business Administration degree. He noted that in May 1908 his grandparents "began a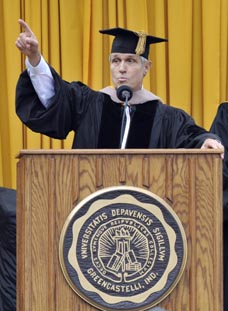 long, long family tradition of attending, and even sometimes graduating from, DePauw University."
Smith pointed to East College and told the commencement audience that in room 114 of the historic building he met his future wife, Phyllis, in September 1966 during their first day of a French class. "I take the chance, I sit next to her. I think maybe she could be my friend. She could be, would be, has been and is, and will always be my best friend," Smith said, noting that they've now been married 40 years.
Pointing northwest toward the Julian Science and Mathematics Center, Smith spoke of teaching a Winter Term class, Choices That Lead to Happiness: Building a Considered and Consequential Life, for the past three years. He left today's graduate with advice: happiness is worthy of pursuing, can be achieved by almost everyone, and comes from within.
"I love this University," Smith repeated as he concluded his remarks. "It enabled me to find a friend in French class. More profoundly, it enabled me to find a friend deep, deep inside myself. May it enable you to do the same."
Deborah Bial, founder of the Posse Foundation, provided today's keynote address to graduates along with outgoing DePauw President Robert G. Bottoms and was presented the McNaughton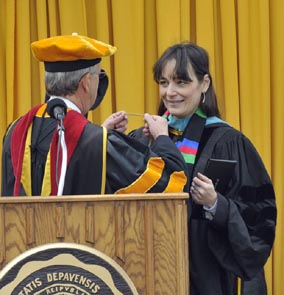 Medal for Public Service.
After John McNaughton, U.S. Secretary of the Navy-designate and 1948 graduate of DePauw, was killed (with his wife and son) in a 1967 plane crash, his friends and family, led by then-Secretary of Defense Robert McNamara, established a memorial at DePauw in the form of the McNaughton Medal.
Previous recipients of the McNaughton Medal for Public Service include chemist Percy L. Julian (DePauw 1920) in 1972; William D. Ruckelshaus, administrator of the U.S. Environmental Protection Agency in 1984; U.S. Representative and 1952 DePauw graduate Lee H. Hamilton in 1987; Emory University President James T. Laney in 1990; Vice-President of the United States Dan Quayle (DePauw 1969) in 1990; civil rights leader and 1957 DePauw graduate Vernon Jordan in 1993; U.S. Senator Richard Lugar in 2001; ABC News Chief National Security Correspondent John McWethy (DePauw 1969) in 2003; and Karen Koning AbuZayd (DePauw 1963), commissioner-general of the United Nations Relief and Works Agency (UNRWA) in May 2007.
Today's ceremony also recognized retiring faculty members David W. Herrold, professor of art; Robert D. Newton Jr., Blair Anderson and Martha Caroline Rieth Professor of Applied Ethics and professor of philosophy;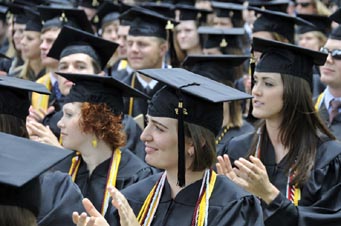 and Martha M. Rainbolt, Raymond W. Pence Professor of English.
A total of 598 undergraduates received degrees at today's ceremony, which took place under sunny skies and breezy conditions on the lawn outside historic East College. Learn more in this story.
Today's event was webcast live. View an archived version of the program by clicking here.
Order a limited edition, high quality DVD of DePauw's 2008 commencement via this online form. Learn more about the disc in this article.
Back