Where Next?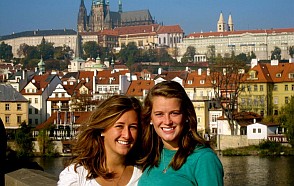 December 16, 2011
One day, Chelsey E. Jonason '11 may end up at law school the way she planned. For now, she's living in a Slovakian convent.
It's not quite the detour you might be thinking. A few months after graduation, Jonason traveled to Slovakia on an English Teaching Assistantship (ETA) through the Fulbright U.S. Student Program. As it turned out, the school she was assigned to teach at happens to be run by nuns.
Living in a convent is "always a good conversation starter," Jonason says, and she has plenty of opportunities for conversation. She teaches English lessons, runs two debate clubs, hosts a conversation group and offers private lessons for the shyer students among them.
English has always been a useful second language for Slovaks who want to travel or study abroad. Since the country's adoption of the euro in 2009, fluency in a bridge language has become even more important.
"English is essential for their survival in the work force, since many international companies operate in Slovakia and so few people speak Slovak outside of this little country," Jonason explains.
Before she left, Jonason says most people she knew wouldn't have been able to point out Slovakia on a map. One explanation for the lack of familiarity is that it is a new country, created during Czechoslovakia's split in 1993. Unsurprisingly, she may be the only American in Trnava, a town of 70,000 near the Austrian border.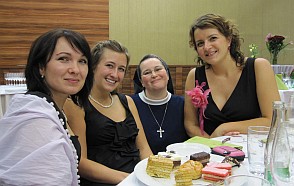 "It definitely has its perks," she says. "I'm a novelty, and Slovaks are incredibly hospitable. I've spent weekends at teachers' and students' homes, and been invited to Slovak prom (left) and on hiking trips."
A conflict studies major at DePauw, Jonason applied for a Fulbright in Slovakia because its history as a former communist state matched her academic interests. So, while she teaches English conversation, she's listening and learning.
"I learn as much from students in these conversations as they do from me," she says. "During a private lesson this morning, my student compared his grandmother's experience with communism to his mother's experience, and this afternoon I had students discussing Slovak views on the homeless population. Sometimes I feel like an undercover anthropologist."
Jonason is one of three members of the Class of 2011 teaching or studying abroad through a Fulbright grant. Ashlee L. Anton received an ETA to teach in South Korea, and Kyle K. Inman was one of four recipients of a Fulbright-mtvU Fellowship to conduct music research in Northern Ireland, a project recently featured by the featured by the Chronicle of Higher Education.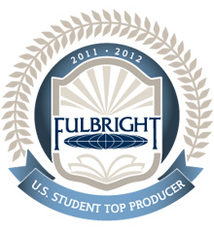 Since 2006, 30 DePauw alumni have traveled abroad on Fulbright grants, regularly placing the University on the Chronicle's Fulbright U.S. Student Top Producers list.
"I'm optimistic about the future of Fulbright at DePauw because we have developed some momentum in the past few years," says Humberto Barreto, professor of economics and management and DePauw's Fulbright U.S. Student Program adviser. "Our best students compete favorably for these prestigious awards, and now that the word is out, we hope to continue getting more applicants and more winners."
One way Barreto hopes to maintain DePauw's presence among the nation's top Fulbright producers is by engaging and supporting alumni with Fulbright aspirations.
"We offer the same support for alumni as we do current students," Barreto says. "We read their essays and statements and give feedback to improve the application. We also interview our graduates via phone or Skype so we can fill out the campus committee evaluation form. I think this is a real advantage over an at-large application."
Shaylyn "Shay" P. Laws '08 was DePauw's fourth Fulbright recipient in 2011. Living nearly 500 miles to the northeast of Jonason, Laws is having a similar experience as Jonason – minus the convent.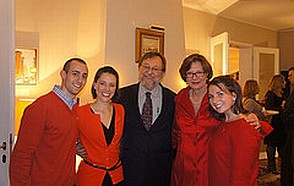 Laws (pictured, far right, with U.S. Ambassador to Lithuania Anne E. Derse) teaches conversational English and American customs to Lithuanian high school students, though the cultural exchange carries into her life with her host family as well. Theirs was likely the only house in the village of Luksiai to prepare a Thanksgiving dinner this year.
"It was a crazy day of cooking and preparing, but when we sat down to say what we were thankful for, the entire table was starting to well up with gratitude and appreciation of each other and life in general," she says. "It was an amazing Thanksgiving."
Laws decided to pursue a Fulbright ETA while finishing a two-year term with Teach For America in Las Vegas. She went back and forth with DePauw's award advisers, who helped polish her application materials, before eventually being selected for the award.
"We recognize that some of our students weren't ready for a Fulbright application as seniors," Barreto says, "but after a year or two out, especially after doing Teach for America or other internships and jobs, a Fulbright experience becomes an attractive possibility. We want all of our students, past and present, to know that DePauw will support them as they apply for post-graduate awards and fellowships."
Please visit the Fulbright at DePauw website for information about how to apply for a Fulbright grant with the help a DePauw adviser.
Back