Super Bowl Party Fills Supper Bowls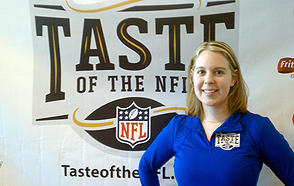 January 31, 2012
Super Bowl XLVI has no shortage of drama. Will New England's Tom Brady win a Super Bowl on archrival Peyton Manning's home turf, or will Manning's younger brother, Eli, lead his New York Giants to their second title-game victory over the Patriots in four years?
Even with the hometown Indianapolis Colts out of the picture, football fans in Indiana have a lot to talk about this year, but it's what happens in the shadow of the game that may impact them the most. An estimated $150 million will flow into host city Indianapolis courtesy of the Super Bowl, and Lya Kostroski Hurst '05 is making sure that a small chunk of that goes to an important cause.
The special events manager for Taste of the NFL will mingle with former players, famous musicians and celebrity chefs at the charity's annual Party With a Purpose on Super Bowl weekend. And for the price of a ticket – a few hundred dollars – you can join her, too.
But access to the party buys more than just a night among stars of the kitchen and gridiron. Proceeds from the event help to fill the shelves at food banks in NFL cities across the country. Through its Super Bowl party and related events, Taste of the NFL has raised more than $11 million to fight hunger.
Hurst grew up as close to the charity as you can get. Her father, Wayne Kostroski, a Minneapolis restaurateur, founded Taste of the NFL in 1992 while serving as a member of that year's Super Bowl task force.
"He has been involved in fighting hunger in America for as long as I can remember," Hurst says. "I worked on my first hunger event with him when I was eight years old ­by collecting Quarters for Kids, ­and I have been involved ever since."
Though familiar with his work, it wasn't until Super Bowl XXXV in 2001, when Hurst was a senior in high school, that she experienced firsthand just how big her father's charity had become.
"I knew my dad worked on creating a party to help raise money, but until that evening, I didn¹t understand the magnitude of it," she says. "I also got to meet JC Chasez of 'N Sync, who was playing the halftime show at the Super Bowl. I was a huge teeny bopper at the time, so I was beyond excited."
Hurst spent the next four years in Greencastle working on a degree in communication, while trying to forge a path uniquely her own. Like many children of accomplished parents, Hurst wasn't sure whether she wanted to continue in her father's footsteps.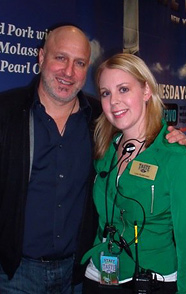 "I was really adamant about creating my own name for myself in the business world rather than just being 'Wayne's daughter,'" she says.
Following graduation, she found a job in marketing for a product development company and worked there until 2008. Then, a new job opened up – one with Taste of the NFL. Though happy with her career, Hurst knew it was an opportunity that she couldn't pass up.
Throughout most of the year, Hurst coordinates events for Cuisine Concepts, a restaurant company run by her father and his business partner, but planning for the Super Bowl party begins well in advance. Even though this year's Super Bowl has yet to be played, plans for next year's game in New Orleans are already in the works.
But Hurst (above, with Tom Colicchio, head judge of Bravo's "Top Chef") isn't looking past Indianapolis. Her husband and many of her college friends are natives of the Circle City, and DePauw is only a short drive down Route 40. She reached out to her connections in the area to help with the event, including members of DePauw's Media and Management Fellows programs.
At the Feb. 4 Party with a Purpose, they'll make sure guests enjoy their time with hosts Ted Allen, host of Food Network's "Chopped," and former Colts head coach Tony Dungy, as well as visiting chefs and players from all 32 NFL cities.
"I have great friends from DePauw who are living in Indianapolis and have been a great asset to me in planning," Hurst says. "I've also met other alumni along the way, just by mentioning the word 'DePauw.' But I am most excited about being able to connect with current students and give them the opportunity of being involved with our event. We really depend on our volunteers to help make the guests' evening a once-in-a-lifetime experience, and I have no doubt that the DePauw students we have will achieve this."
Want to help fight hunger, but can't attend the Party With a Purpose? Participate in Taste of the NFL's Kick Hunger Challenge by visiting http://support.tasteofthenfl.com/.
Back