Faculty-Student Dig Yields Artifacts from DePauw's Past
July 1, 2012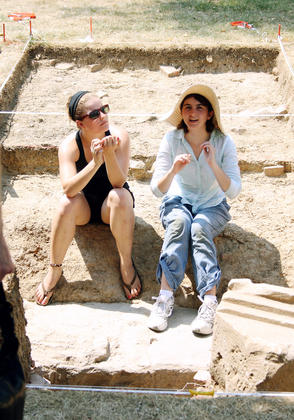 "With temperatures literally 100 degrees in the shade at noon Friday in Greencastle, members of the archaeological dig team unearthing the remnants of Minshall Lab might have thought they were in Greece or Turkey or amid the shifting sands of Egypt instead of the middle of the DePauw University campus," begins a story in Greencastle's Banner-Graphic. "Yet the heat and humidity couldn't temper the excitement of members of the team that's been working in the shadow of the DePauw Union Building since June 11." (Banner-Graphic photo: students Kat Raymond-Judy and Danica Andersen at the excavation site)
Eric Bernsee's article details how two professors of Classical Studies -- Pedar Foss and Rebecca Schindler -- and their students spent approximately 120 hours digging at the site of DePauw's former science building, which was razed in 1973.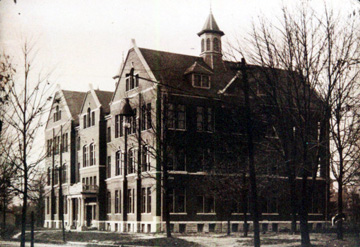 "The team reached one of its goals, uncovering part of the south wall of the old science building that was leveled in 1973. And the digging stopped Wednesday when the crew found the packed-earth basement of Minshall," reports Bernsee.
Schindler, who has been involved in many digs on foreign soil, says of her first such project in America, "Here you have a community that's invested in what you're doing. They have stories to share, and I don't usually get that in my real job."
The finds by the professors and students Kat Raymond-Judy and Danica Andersen included bricks, a chunk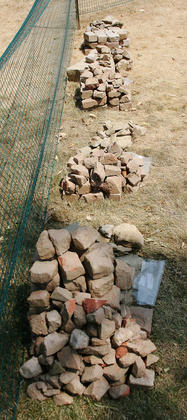 of limestone from the gables of the laboratory building's roof, a window shade, and a Pepsi can from the year the lab was demolished.
According to the newspaper, "Raymond-Judy even incorporated into her experience a little prank at the expense of her grandfather, retired former longtime DePauw Professor Ralph Raymond. 'My grandfather made a joke about how he had lost a silver dollar by Minshall Lab, and wanted us to look for it,' Raymond-Judy laughed. So she went to the antique store and bought a silver dollar for $2, brought it back to the dig site and covered it with dirt to make it look like it had just been unearthed. 'I express mailed it to him,' she smiled."
Access the complete story at the Banner-Graphic's website.
Learn more about the dig at this student web page, or in a previous article.
Back