New Worlds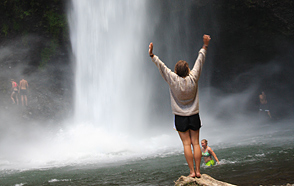 August 17, 2012
Barely removed from their high school graduations, members of Servicio en las Américas found themselves boarding an airplane to Ecuador. It was a sudden but fitting start to life at DePauw.
If the Servicio program isn't a jump into the deep end of language immersion, it's pretty close. For three weeks, a group of incoming freshmen works and travels in Spanish-speaking areas of the world. Even while preparing for the trip on DePauw's campus, students sign away their right to speak English by the second day of the program. In Ecuador, the students would have to rely entirely on Spanish they retained from high school – roughly three years of previous study are required – and whatever they picked up during the two weeks of intensive instruction with Scott B. Kissick '10, now a graduate student at Washington University in St. Louis.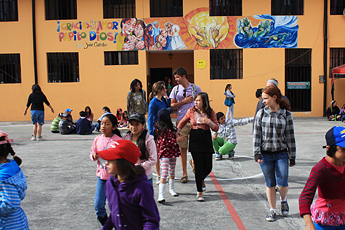 "It's frightening, but it pays off in the end," Associate Professor of Modern Languages Robert P. Hershberger, who led this year's program, says of the Spanish-only pledge. "Whereas initially they were self-conscious and inhibited, by the end they're producing Spanish all the time."
The group spent most of its time in the Ecuadorian capital Quito, which stretches along a valley in the Andes Mountains nearly two miles above sea level. Northern Quito is a commercial hub, modern and affluent. A central historical district separates the wealth of Quito from the poorer, densely populated southern areas where the Servicio members stayed. Hosted by the Tierra Nueva Foundation, a nonprofit that helps families in the city, the students painted rooms in El Centro, a community center run by the organization, and managed day camps for local school children.
Adam S. May, a freshman from Washington, Ind., says that worries about a language barrier quickly melted away as students interacted with their Ecuadorian hosts at El Centro.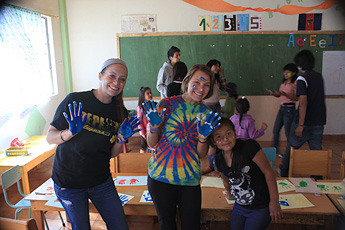 "I was definitely apprehensive about speaking Spanish with them at first because my Spanish was by no means stellar," May says. "But they were all excellent to talk to because they understood our language struggles and worked to help us learn and understand. The people at El Centro taught me more Spanish than I ever expected them to. It was excellent to collaborate with them because they were sincerely interested in us."
Between service projects, the group took weekend excursions to the nearby countryside – hot topics on the official trip blog. Many students wrote about their visit to San Clemente, an indigenous community at the base of Imbabura volcano, or a retreat to Siempre Verde cloud forest in the final days of their stay in Ecuador. Outside the city, new lessons awaited the group.
"Trips to places like San Clemente and Siempre Verde really opened my eyes to world travel and how many wonders there must be outside our own country," May says. "Both of these places were filled not only with natural beauty, but also beautiful people. The importance of family and working together are incredibly strong in these remote, mountainous places. As tight-knit as these people are, they were always willing to invite us into their own families."
This year's program was the fourth hosted in Ecuador by Tierra Neuva, which Hershberger first encountered during a Winter Term in Service. In the past, DePauw students have volunteered with the organization to do everything from building homes to setting up computer labs. While the service projects change from year to year, Hershberger says they provide a consistent framework for an experience that can change the course of a student's time at DePauw.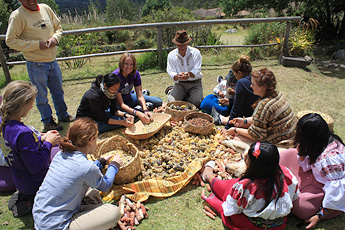 "The projects simply provide you with a context for community building, and that context can be anything – building a house, picking corn," he says. "In many ways, it's the least important thing. I didn't think that initially, but being down there, I realized this is really powerful stuff. It really sticks with the students and invites them to dream a little."
The Servicio en las Américas program started in 2007, made possible through a gift from Steven L. Trulaske '79. Trulaske continues to be "hearts-on" with the program, as Hershberger puts it, visiting with students before they depart, but leaving administrative decisions to the faculty organizers.
This year, Trulaske arranged a special dinner in Quito's historic district for the travelers and delivered boxed Panama hats (ironically, a product of Ecuador) as gifts.
Originally tailored for first-generation college students, the program prepares students for studies at DePauw through service learning, international travel and Spanish language immersion. Today, preference is given to incoming freshmen who've never traveled abroad. For some participants, it's their first time in an airplane.
Major life events such as going off to college or traveling to a new country can be difficult to handle, especially when done at the same time. In recent years, Servicio alumni have joined the program as student leaders, adding a layer of peer support to the experience while having a chance to revisit their own memories of transition.
"It's great having six generations now of participants who treasure the program and want it to do everything for the new participants as it did for them," Hershberger says. "We rely heavily on student leadership, and I enjoy watching these kids grow as leaders."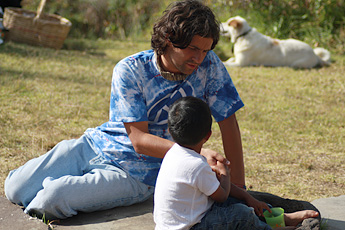 Whether or not a Servicio member chooses to return as a student leader, there's a good chance his or her travels will continue. Recent graduate Zakary D. Phillips '12 (left), a former participant who served as a student leader this year, took multiple trips to Central and South America while at DePauw and will soon begin a career as a professional violinist in a Buenos Aires orchestra. Classmate Samuel T. Holley-Kline, who traveled on the same Ecuador program as an incoming freshman, will continue his studies in anthropology on a Fulbright U.S. Student Grant in Mexico.
"I think many of these past participants would say that Servicio was the highlight of their DePauw experience," Hershberger says. "If anything, it grows in their hearts and minds when they get back."
Back