With $5 Million Gift from Al & Kathy ('74) Hubbard, DePauw to Create National Model for Advising and Career Preparation in the Liberal Arts
November 12, 2012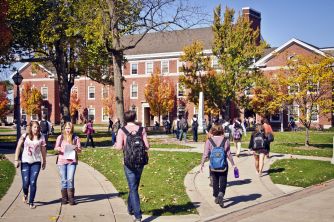 President Brian W. Casey announced today that DePauw University has received a $5 million gift from Allan B. and Kathryn F. Hubbard to support the creation of a new center for student engagement, experiential learning and career planning. The new center will be one of the first of its kind at a leading national liberal arts college and represents the University's fundamental commitment to ensuring that every student is advised and supported in each of the three primary components of their student experience: academic life, student life and cocurricular life.
The Kathryn Fortune Hubbard Center for Student Engagement will provide the facilities necessary for the University to implement a comprehensive four-year development model that connects the curriculum to cocurricular and experiential learning programs. It will be located in a renovated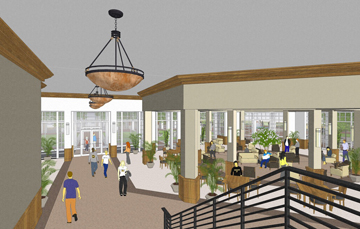 Memorial Student Union, and will serve as a centralized home for strengthened and comprehensive student advising for off-campus study, internships, Winter Term programs, career planning, and preprofessional and graduate school preparation.
"The creation of this center will help students develop a pathway for each of their four years at DePauw to include academic advising, cocurricular advising, mentoring and experiential learning so that they are uniquely prepared for their post-college career," said Kathy Hubbard. "It is absolutely essential that students are advised and coached in ways that shape experiences where they explore their passions, connect with new cultures, and participate in the professional world. This new center will ensure that DePauw is among the best in the country at connecting the liberal arts to life's work." (at right: Al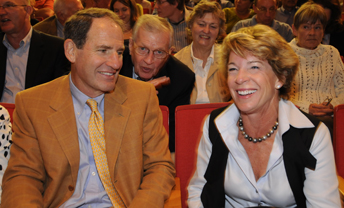 and Kathy Hubbard at the Karl Rove/Howard Dean Ubben Debate in Kresge Auditorium; September 11, 2009)
In making this announcement, Casey underlined the University's commitment to the development model that will be made possible through the Hubbard Center.
"On behalf of our students, I extend my sincere thanks to Kathy and Al for their commitment to this University and for all that the Hubbard Center will make possible for DePauw," said Casey. "With their support, DePauw can be the leading national liberal arts college in connecting the central tenets of the liberal arts with cocurricular experiences in ways that equip our students to lead lives of meaning and accomplishment."
The creation of the Hubbard Center represents the latest phase in University efforts
to strengthen cocurricular programming that extends the academic experience beyond the classroom. It will build upon recent efforts of the University's Civic, Global and Professional Opportunities office, created in 2010 to encourage more intentional connections between off-campus study programs, career services initiatives and community service and civic engagement efforts.
"For decades, DePauw has been at the forefront of experiential learning in a liberal arts setting," said Raj Bellani, dean for experiential learning and career planning. "We know that these experiences make it possible for our students to take their liberal arts education and apply it in ways that foster further growth and the development of their own passions. It is our vision that every DePauw student will be coached and advised through a comprehensive four-year development program. The Hubbard Center will serve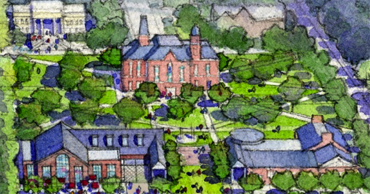 as the focal point of this effort, resting at the intersection point between our curriculum and postgraduate life."
Renovations of the Union Building to include the Hubbard Center will coincide with plans for the construction of Hoover Hall, the University's new dining hall. Additional fundraising efforts, currently underway, will seek resources to endow and strengthen programs to be located within the Hubbard Center. (rendering shows Hoover Hall in the foreground at left and Memorial Student Union Building to the front right)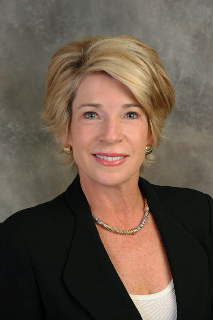 Kathy Hubbard, a member of DePauw's Board of Trustees and a 1974 graduate of the University, is the co-founder of Bridges of Understanding, a nonprofit, nonpolitical group dedicated to fostering better understanding between the United States and the Arab world. In 2006, she was appointed by President George W. Bush to the J. William Fulbright Board. She also serves on the board of the Indianapolis Zoo and the Choice Charitable Trust, a foundation that provides scholarships for low-income students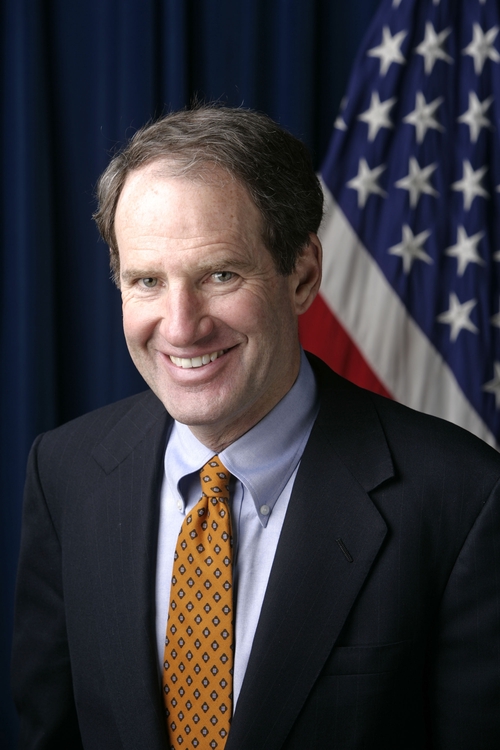 to attend private schools.
Al Hubbard served as Assistant to President George W. Bush for Economic Policy and as the Director of the National Economic Council. During the George H. W. Bush administration, he was Deputy Chief of Staff to Vice President Dan Quayle and executive director of the President's Council on Competitiveness. He is also the founder and chairman of the board of E&A Industries, which has bought and grown a number of companies throughout the United States since 1977. He has served or is serving on a number of for-profit and non-profit boards, including WellPoint Corporation, Simon Property Group, PIMCO Equity Series, PIMCO Equity Series VIT and the Indiana State Chamber of Commerce. Hubbard is also a member of the Council on Foreign Relations.
Back