Stellar Communities Grant Creates "Great Traction" for Greencastle & DePauw
December 12, 2012
"Seventy miles southwest of Delphi, the city of Greencastle offers a glimpse of how Stellar Communities works," reports Indiana's Lafayette Journal and Courier. "Greencastle was one of the first cities chosen for the program, which is overseen by the Indiana Office of Community and Rural Affairs," writes Chris Morisse Vizza. "The city and university have completed several projects designed to improve campus and community engagement."
The Stellar Communities program is a multi-agency partnership aimed at launching multiple community development projects in Indiana's smaller communities. DePauw worked with city officials to create Greencastle's winning proposal, which provides approximately $19 million in state funds to revitalize the downtown area, link the city more closely with the campus, and improve the quality of life through new initiatives in health, the arts, and technology.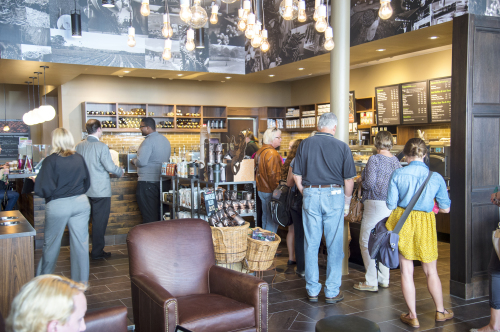 The piece notes that projects include "A major road reconstruction that created a new gateway to DePauw included relocating and replacing water and sewer lines. The university, which has about 2,300 students, moved its bookstore to Greencastle's central business district, creating a community meeting space and a Starbucks, where residents and college students can interact and use the city's free Wi-Fi."
"They've got some great traction and a nice synergy between the mayor and DePauw University," the IOCRA's Michael Thissen tells the newspaper.
Read more here.
Another story notes, "The phone started ringing in the mayor's office as soon as Greencastle was selected for Indiana's Stellar Communities program in March 2011."It's a topic," Sue Murray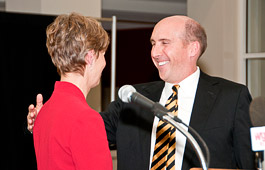 said. "It's a topic downtown, and it's a topic at DePauw University. People want to know what's happening and want to be part of it."
Access that article -- headlined "Greencastle business climate improves quickly after state invests in Putnam County city" -- here.
Greencastle Mayor Sue Murray and DePauw President Brian W. Casey announced receipt of the Stellar Communities grant in March 2011. You'll find details in this summary.
Source: Lafayette Journal and Courier
Back