Campus and Community Remember Marvin Long, 1924-2013
January 21, 2013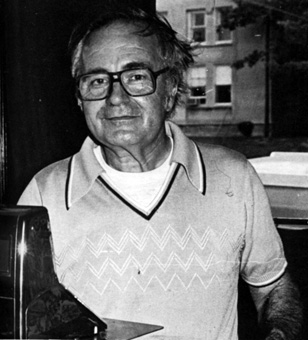 "The Greencastle and DePauw University communities lost a legend Sunday morning when the inimitable Marvin Long died at age 88," reports the Banner-Graphic. The editor of the Greencastle newspaper, Eric Bernsee, writes, "His very name is clearly synonymous with Marvin's as the campus eatery he opened (in the 1970s) still carries his name. But Long's legacy will be more than the garlic cheeseburger (GCB) that put Marvin's on the map. It was his interaction with students that enabled the restaurant to thrive and endures today as his gift to his successors. Over the past 40 years, a generation and more of DePauw students has made Marvin's a staple of their campus diet, helping cement it as a must-visit stop on any return trip to Greencastle."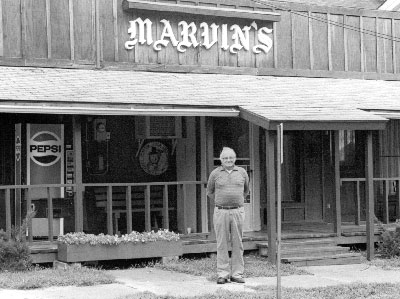 Long passed away at Putnam County Hospital. He was 88 years old.
"Marvin Long was truly one of a kind," says Bill Fenlon, head men's basketball coach at DePauw. "One of the first people I met upon moving to Greencastle, Marvin informed me that he was with me ... win or tie! A terrific friend of DePauw athletics and its athletes, he could always be found in his seat in the corner behind the bench, cheering on the Tigers."
Bernsee notes, "Marvin's interest in the students went beyond tapping into their wallet to make his living. Besides employing legions of them to cook and deliver his pizzas, burritos and GCBs, Long was known for advancing students a few extra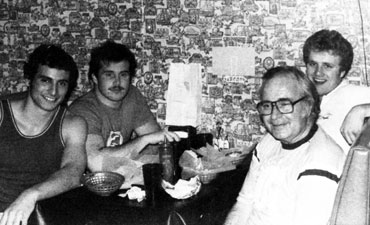 bucks or making sure they didn't go hungry, many times without even knowing the name of the student he just befriended. Marvin was like some surrogate grandfather to those kids, many of whom were living away from home for the first time."
"If they were hungry or said they were 'a little short' this week, he would sit them down and give them a wet burrito or cheese fries or GCB, whatever they wanted," remembers Mike Sullivan, who bought the restaurant in 1991 when Long retired. "That was part of his personality, that he cared more for that part of it than he did the real business side of things."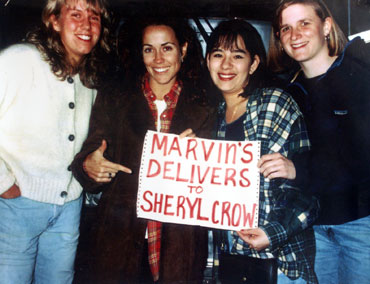 The newspaper recalls, "One of the legendary aspects associated with Marvin's has been the 30-year tradition embodied by the slogan 'Marvin's delivers anywhere.' Ubiquitous homemade banners and signs proclaiming the Greencastle eatery's propensity for publicity have popped up virtually everywhere from Graceland to Key West to Mt. Rushmore and every tropical isle in between ... Easily the most memorable 'Marvin's delivers' moment occurred in 1985 when four students held up signs that read, 'Marvin's delivers to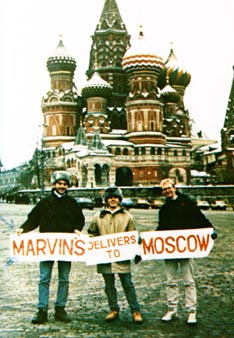 Moscow' right in Red Square and ended up in a jail for a couple hours. Remember, it was the midst of the Cold War, and the Soviets didn't know Marvin Long from Lee Marvin or Melvin Laird. The Russians apparently thought Marvin's was a weapon, Long laughed, and that the students were going to 'deliver a missile.' "
According to Fenlon, "Whether it was supporting their performance or giving them a job delivering to make a few bucks, Marvin Long was a caring person and a DePauw institution. Generations of students and athletes have benefited from getting to know Marvin and sharing his love for the Greencastle and DePauw communities. He will be greatly missed by all of us."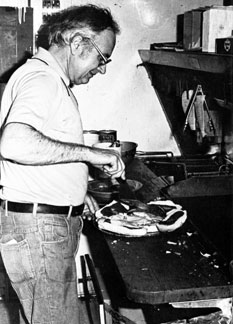 Funeral services for Marvin Long are scheduled for 2 p.m. Friday, January 25 at Hopkins-Rector Funeral Home in Greencastle, where visitation is set for 11 a.m.- 2 p.m. Friday.
Access the full text at the Banner-Graphic's website.
Indianapolis NBC affiliate WTHR was on campus today putting together a tribute to Long, which aired during this evening's 5 p.m. newscast. It noted that "Marvin Long's commitment to the central Indiana extended far beyond his restaurant," and includes interviews with Greencastle Mayor Sue Murray, among others.
See the piece -- reported by Nicole Pence, a 2006 graduate of DePauw -- at the station's website. It is also embedded below.
In April 2012, Marvin Long sat down for an interview with Ken Owen '82, executive director of media relations for DePauw, to share his memories of Marvin's. The video can be seen below.
In the late 1980s, DePauw students created a video to celebrate the campus hangout, and Marvin Long is at the center of many of the shots. It is embedded below.
Back