Prof. Dan Shannon Contributes Article to Journal
January 26, 2013
An article by Daniel E. Shannon, professor of philosophy at DePauw University, is published in the latest edition (Volume 42, Issue 1) of Clio: A Journal of Literature, History, and the Philosophy of History. Dr. Shannon's contribution is "The Continual Return of the Female Principle in Hegel's Phenomenology of Spirit." The issue examines the work of German philosopher Georg Wilhelm Friedrich Hegel.
An international triennial journal, Clio is published by Indiana University-Purdue University at Fort Wayne.
Access a table of contents at the publication's website.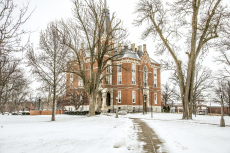 Dan Shannon is co-editor of The Challenges of Globalization: Rethinking Nature, Culture, and Freedom and contributed to Humanity at the Turning Point: Rethinking Nature, Culture and Freedom and Person, Being, and History: Essays in Honor of Kenneth L. Schmitz. Learn more here.
Back