Margaret Thatcher "Left Behind a Legacy of Sorts in Greencastle"
April 10, 2013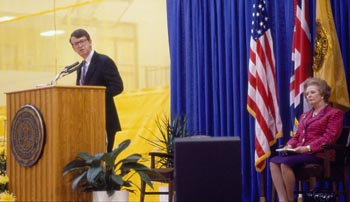 "When Margaret Thatcher succumbed to the effects of a stroke Monday morning at age 87, quite obviously she left behind a legacy of political power and steely resolve felt from The Falklands to the United Nations to Downton Abbey," writes Eric Bernsee in today's Banner-Graphic. "But while leaving her indelible mark on the international stage, the famed 'Iron Lady' also left behind a legacy of sorts in Greencastle."
The editor of the Greencastle newspaper notes that Thatcher's death came 21 years and a day after she delivered an Ubben Lecture at DePauw on April 7, 1992. "Her arrival locally -- and who could forget Steve Jones' ['69] Greencastle Wash 'n' Fill welcome to town: 'Hey, Maggie, wash your Jag?' -- forever solidified the Timothy and Sharon Ubben Lecture Series as a major event at DePauw. Something to circle on your calendar. Something not to be missed, whether you were a DPU grad or a tried-and-true townie," Bernsee asserts.
"Certainly there were Ubben Lectures before Margaret Thatcher took the podium that day in front of 4,100 interested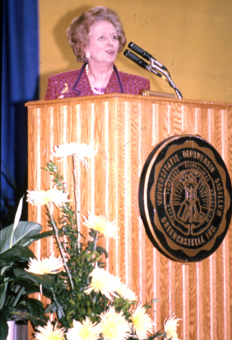 listeners inside the Lilly Center," he writes, but the former prime minister's visit "put the Ubben series on the map, soliciting coverage from Indy to India and thrusting DePauw's name into news stories from Louisville to Liverpool and back again. And since her appearance, the series has never looked back. Hence, you might say at DePauw, nothing says lovin' like something from the Ubbens."
The column also recalls how Martin Fletcher, then a reporter for the Times of London, managed to make his way into the event, which was closed to media.
You'll find the complete piece at the Banner-Graphic's website.
Margaret Thatcher's day at DePauw was also recalled in Monday reports by Indianapolis ABC affiliate WRTV and NPR station WFYI, among other outlets. Learn more in this summary. Some videos are embedded below.
The Timothy and Sharon Ubben Lecture Series was established in 1986 through the generous support of 1958 DePauw graduates Timothy H. and Sharon Williams Ubben to "bring the world to Greencastle." Over the past 27 years, Ubben Lecturers have included: Bill Clinton, Tony Blair, Mikhail Gorbachev, Shimon Peres,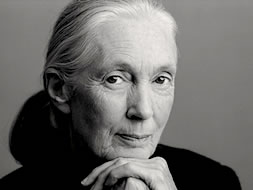 Benazir Bhutto, Elie Wiesel, General Colin Powell, John Major, Barbara Bush, Carl Bernstein, Oscar Arias, Barbara Bush, Peyton Manning and Spike Lee.
Next Wednesday, April 17, world-renowned conservationist Jane Goodall will come to DePauw to discuss "Sowing the Seeds of Hope." Information on submitting a question for Dr. Goodall can be found here.
To view a complete roster of Ubben Lecturers -- which includes links to video clips and news stories -- click here. Video montages of many guests are available on YouTube.
Back