38 DePauw Student-Athletes Inducted Into Chi Alpha Sigma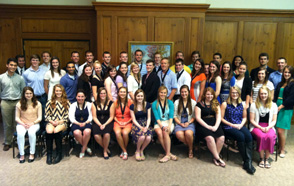 April 10, 2013
Greencastle, Ind. – In conjunction with the NCAA's Division III Week, Theodore Katula Director of Athletics Stevie Baker-Watson welcomed the newest members to Chi Alpha Sigma at an induction ceremony at the DePauw Memorial Student Union Building on April 8. In all, 38 DePauw student-athletes were inducted into this prestigious honor society. (pictured are all current DePauw student-athlete inductees who were present at this year's ceremony)
Former DePauw head football coach Nick Mourouzis founded the National College Athlete Honor Society, or Chi Alpha Sigma, in Greencastle, Ind., on May 17, 1996. Mourouzis created the organization to bring recognition to deserving student-athletes, their families, teams, athletic departments and colleges.
Chi Alpha Sigma induction requires that a student-athlete reach junior academic status, achieve a minimum 3.4 cumulative grade point average at the time of selection and earn a varsity letter in his/her respective sport.
Nearly 250 colleges and universities make up Chi Alpha Sigma, representing over 40 states. DePauw, as the founding University, is designated as the Alpha Chapter.
In all, 18 different athletic squads were represented in Monday night's festivities. The women's track and field and men's lacrosse team led the way with four inductees apiece, while the women's basketball, women's cross country, football and women's tennis programs each welcomed a triumvirate of their student-athletes to the fraternity.
The baseball, men's soccer, softball, men's swimming and diving, men's tennis and men's track and field teams each inducted a pair while men's basketball, field hockey, men's and women's golf, women's soccer and women's swimming and diving rounded out the inductee list adding a single member of their team this year.
To find additional information on Chi Alpha Sigma, please visit them at www.ncahs.org.
For more information on the DePauw Athletics, follow DePauw on Twitter (@DePauwAthletics) or like them on Facebook (www.facebook.com/DePauwAthletics).
DePauw's 2013 Chi Alpha Sigma INductEES
Laura Elizabeth Arvin
Sr.
Indianapolis, Ind./Scecina Memorial
Women's Cross Country
Jillian Cynthia Balser
Sr.
Brentwood, Tenn./Brentwood Academy
Women's Track and Field
Brendan James Bolander
Jr.
Carmel, Ind./Brebeuf Jesuit
Baseball
Jack Edward Burgeson
Jr.
Saint Louis Park, Minn./Saint Louis Park
Men's Swimming and Diving
Logan Patrick Cash
Jr.
Frankfort, Ky./Lexington Catholic
Men's Soccer
Mark Ernest Clevenger
Jr.
Louisville, Ky./Atherton
Football
Joseph Hart Collins
Jr.
Evanston, Ill./Evanston Township
Men's Tennis
Ashley Mae Conard
Jr.
Indianapolis, Ind./University High
Women's Track and Field
Elizabeth Rose Conley
Jr.
Portage, Ind./Andrean
Women's Cross Country
Kyle Alexander Coronel
Jr.
Prospect, Ky./St. Xaver
Men's Tennis
Cody Ray Crook
Sr.
Beech Grove, Ind./Beech Grove
Football
Megan Walsh Crowley
Jr.
Barrington, Ill./Barrington
Women's Tennis
Chelsea Johanna Keir Cutler
Jr.
Victoria, B.C./Mt. Douglas Secondary
Field Hockey
Caroline Susanne Emhardt
Jr.
Carmel, Ind./Park Tudor
Women's Tennis
Paige Nichols Fehr
Jr.
Cincinnati, Ohio/Saint Ursula Academy
Women's Soccer
David Wayne Garrett
Sr.
Indianapolis, Ind./Brebeuf Jesuit
Men's Track and Field
Alexandria Leigh Gasaway
Jr.
Crawfordsville, Ind./Crawfordsville
Women's Basketball
John Randall Glerum
Sr.
Kenilworth, Ill./Loyola Academy
Men's Lacrosse
Paige Whitney Gooch
Jr.
Fort Mitchell, Ky./Beechwood
Women's Golf
Ashley Nicole Guevara
Jr.
Verona, Ky./Walton Verona
Women's Cross Country/Track and Field
Benjamin Jacob Hazen
Jr.
Fort Wayne, Ind./Homestead
Men's Soccer/Men's Track and Field
Patrick George Herrod
Sr.
Chesterton, Ind./Chesterton
Men's Golf
Thomas Cary Hiller
Jr.
Whitefish Bay, Wis./Whitefish Bay
Men's Swimming and Diving
Nicole Marie Inman
Jr.
Indianapolis, Ind./International
Women's Track and Field
Samuel Bradley Johnson
Jr.
Columbus, Ohio/Bexley
Men's Lacrosse
Kathleen Alexandra Kay
Jr.
Effingham, Ill./Saint Anthony
Women's Tennis
Allison Blair Kirby
Jr.
Leawood, Kan./Shawnee Mission East
Women's Swimming and Diving
Lauren Catherine Krumwiede
Jr.
Watseka, Ill./Watseka Community
Softball
Megan Lynne Landahl
Jr.
Brookfield, Ill./Riverside-Brookfield
Softball
Nicholas Lawrence Lucca
Sr.
Colorado Springs, Colo./St. Mary's
Men's Lacrosse
Kyle Reece Mackey
Jr.
Danville, Ind./Danville
Men's Track and Field
Eric Andrew Malm
Jr.
McCordsville, Ind./Hamilton Southeastern
Football
Trina Magno Manalo
Jr.
Fort Wayne, Ind./Bishop Dwenger
Women's Track and Field
Erin Nicole McGinnis
Jr.
Normal, Ill./Normal Community West
Women's Basketball
Ann Elizabeth Sarkisian
Jr.
Valparasio, Ind./Valparaiso
Women's Basketball
Austin Christopher Schile
Sr.
Topeka, Kan./Washburn Rural
Men's Lacrosse
Jeffrey David Sustarsic
Jr.
Liberty, Ind./Union County
Men's Basketball
Jared Michael Timmer
Jr.
McCordsville, Ind./Hamilton Southeastern
Baseball
Back