Coach Nick Mourouzis Establishes First Student-Athlete Honor Society
February 28, 1997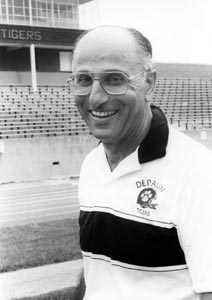 February 28, 1997, Greencastle, Ind. - Many honorary organizations exist that recognize college students for outstanding academic or athletic achievements, but none has done both. Nick Mourouzis, DePauw University's winningest football coach, believes that student-athletes need to be recognized for their ability to excel in both academics and athletics, and he has taken the lead in making sure that they are rewarded. He has established the National College Athlete Honor Society, the first honor society for college student-athletes.
The Alpha chapter of the National College Athlete Honor Society has been founded at DePauw University. The Greek letters for the organization are Chi Alpha Sigma, and membership will recognize outstanding academic achievement by intercollegiate varsity sport letter winners. The honorary society also will promote good citizenship, moral character and leadership.
"College athletics have received a tremendous amount of criticism in recent years for overemphasizing athletics and underemphasizing academics," Mourouzis said. "We need to renew the emphasis on the 'student' part of the term 'student-athlete.' The National College Athlete Honor Society will honor student athletes in a manner similar to the way Phi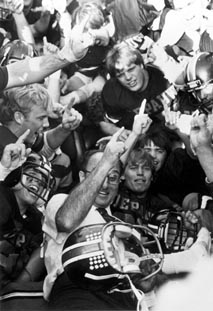 Beta Kappa recognizes its scholars."
Student-athletes who have at least a 3.4 (on a 4.0 scale) grade point average or equivalent and who earn a varsity letter will be eligible for membership in the National College Athlete Honor Society. Student-athletes must be juniors or seniors in order to be inducted, and the society is open both to male and female athletes in all varsity intercollegiate sports.
The society's motto is "Excellence in Academics and Athletics."
The first initiates into the National College Athlete Honor Society will be student-athletes from colleges and universities in Indiana. Mourouzis is currently soliciting nominations for the first induction later this spring. He then plans to expand the honorary society nationally.
Mourouzis laid the groundwork for establishment of the society during a sabbatical in 1995. He researched the legal parameters and determined that no other organization exists to recognize student-athletes in this manner.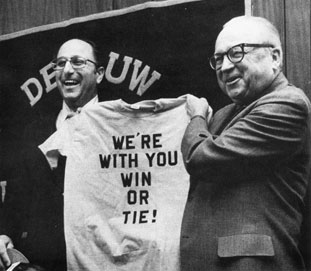 Charter members of the National College Athlete Honor Society governing board, selected from all levels of competition, include: Jona Braden, Butler University (Div. IAA); Scott Duncan, Rose-Hulman Institute (Div. III); Mary English and Nick Mourouzis, DePauw University (Div. III); John Friend, Purdue University - Calumet (NAIA I); David Huffman, University of Indianapolis (Div. II); Buzz Kurpius, Indiana University (Div. IA); and Joe Romine, Taylor University (NAIA II).
Following a 22-year stint as an assistant coach in the Mid American and Big Ten conferences, Mourouzis became the head coach at DePauw University in 1981. His teams have posted a record of 95-60-4 and Mourouzis is a two-time Coach of the Year in the Indiana Collegiate Athletic Conference.
Back