America is On a First Name Basis with Angie Hicks '95
May 14, 2013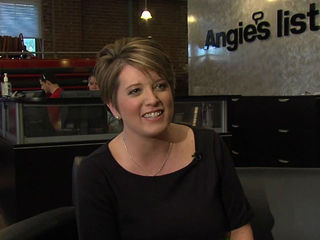 "Angie Hicks calls Indianapolis home. Her family is here. Her business is here. However, her name is absolutely everywhere," begins a report aired by Indianapolis ABC affiliate WRTV. "That's because Angie Hicks is the 'Angie' in Angie's List."
A 1995 graduate of DePauw University, where she was an economics major and Management Fellow, Hicks co-founded the company -- now a national powerhouse -- shortly after receiving her diploma in Greencastle. Beth Vaughn reports, "Hicks said it took her company 16 years to collect a million household customers. It's taken just 16 months to double that number ... Angie's List offers 550 categories of service reviews in 200 different markets. About 1,300 employees, mainly based at a business park just east of downtown Indianapolis, work the phones and sell advertising for the site."
Hicks says, "Surround yourself with great people. That can sometimes be better than the idea."
The station adds, "Hicks is a graduate of DePauw University. She told RTV6 that before launching what would become Angie's List after
college, she worked as a server at Ryan's Steak House and as an employee at the Fort Wayne Children's Zoo. Now that she's found professional success, she looks for opportunities to mentor other young goal-minded people. Hicks said her message is always to seize opportunities as they become available and always keep your eyes open for the next one to come along."
Access the report at the station's website.
Hicks holds an M.B.A. from Harvard Business School. In October 2009, she was honored with DePauw's Robert C. McDermond Medal for Excellence in Entrepreneurship. (photo at left: President Brian W. Casey awards the McDermond Medal)
Angie Hicks Bowman was a guest on CBS This Morning March 7. Learn more in this previous summary.
Back