Explore and Discuss Unique Exhibition, 'Living as Form (The Nomadic Version)', at Peeler Sept. 5 - Nov. 28
August 17, 2013
Also: 'On the Shoulders of Ancestors: The Art of Willis 'Bing' Davis '59' Opens at Peeler Center Aug. 28 and Visual Art, Design & Creative Writing Intersect in Peeler Exhibition, 'Darkfire and The Waiting Room'
"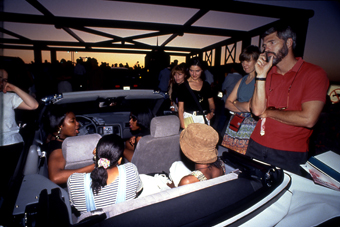 Living as Form (The Nomadic Version)" -- an unprecedented, international project exploring over twenty years of cultural works -- will be on display at DePauw University's Richard E. Peeler Art Center, September 5 through November 28. The works being exhibited blur the forms of art and everyday life, emphasizing participation, dialogue, and community engagement. The exhibition is curated by Nato Thompson, chief curator at Creative Time, New York, and is co-organized by Creative Time and Independent Curators International (ICI).
(at right: Suzanne Lacy, The Roof is on Fire, 1994. Oakland, California, DVD. On June 9, 1994, 100 cars assembled on a rooftop garage in the city of Oakland, California. The 220 public high school students in the cars proceeded to discuss predetermined but unscripted issues ranging from violence, sexuality, gender, and race, to medial portrayals of teenagers. Audience members and camera crews went from car to car listening to the teens talking candidly.)
In collaboration with 25 curators from around the world, Nato Thompson has selected 48 socially engaged projects produced in the last 20 years as the foundation of this exhibition. "Something historically unique is happening in cultural production that requires different rules for art than those of the 20th century," says Thompson. "This culturally-savvy method of civic production has manifested in everyday urban life and growing civil unrest. 'Living as Form' is an opportunity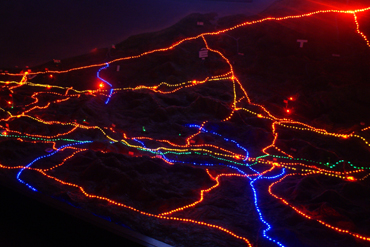 to cast a wide net and ask: how do we make sense of this work, and in turn, how do we make sense of the world we find ourselves in?" (at left: The Long March Project, Ho Chi Mihn Trail, 2008–11. Courtesy of the artists. / Ho Chi Minh Trail, initiated by the Long March Project, consisted of twelve artists and intellectuals marching along the historic Ho Chi Minh Trail, stopping for discussions, public forums, informal screenings, and performances in Vietnam, Cambodia, and Laos. The project re-examines the geographical and ideological role the Ho Chi Minh Trail played during the Vietnam War, contemplating topics such as trans-nationalism, communist legacy, and artistic production and documentation.)
"Living as Form (The Nomadic Version)" will provide a broad look at a vast array of practices that appear with increasing regularity in fields ranging from theater to activism, and urban planning to visual art.
Further increasing the diversity of practices that are represented in the show, each hosting institution will select additional works to add to the traveling exhibition that is being toured via hard drive. In addition to expanding the content of the exhibition, each collaborating venue will organize site-specific, socially engaged, commissioned projects or events that connect to the theme and "activate" the show. As the essence of the works is rooted in social engagement, the venue is also encouraged to provide participatory experiences that possess some sort of political or community-based content for visitors to encounter.
DePauw University's exhibition will feature a large-scale installation by artist Jacob K. Stanley '05. He will lead volunteers from the community and students at DePauw to construct an installation piece in the gallery that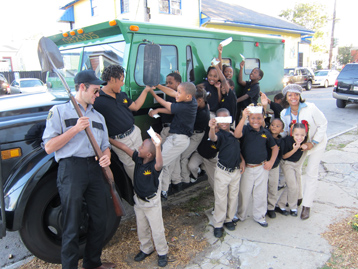 addresses issues of housing and sustainability.
A second gallery project will repurpose old computer hardware from DePauw University's computer labs and put it to work processing data for cancer research. Drawing upon the Berkley Open Infrastructure for Network Computing (BOINC), the computer installation will question the role of abandoned electronics in our consumer culture of faster, smaller, and better. (at right: Mel Chin, Operation Paydirt/Fundred Dollar Bill Project, 2005–Ongoing. New Orleans, Louisiana. Courtesy of the artist. / Operation Paydirt, conceived by Mel Chin, is an initiative that uses a scientific process to neutralize the hazardous lead in New Orleans soil, which is currently a significant detriment to children's health. Fundred Dollar Bill Project symbolically raises money for this decontamination initiative. Chin invited children from across the country to design their own "fundred dollar bills" -- shown in this image -- in the hopes of receiving matching funds from Congress for the estimated $300 million cleanup effort.)
"Living as Form (The Nomadic Version") is part of ICI's Exhibitions in a Box series. It highlights the fact that interesting projects can come in small parcels –- in this case, a hard drive. The source material from each Exhibition in a Box provide venues with the freedom and accessibility to generate exhibitions tailored to their specific programs and local context. As a result, this do-it-yourself format encourages responsive and collaborative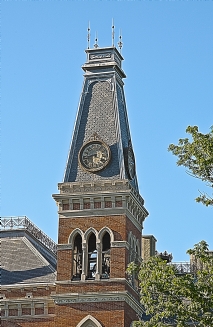 involvement between venues and audiences and acts as an interesting extension to the accessibility and collaborative effort of "Living as Form (The Nomadic Version)."
Independent Curators International (ICI) is a non-profit headquartered in New York that produces exhibitions, events, publications, and training opportunities for audiences around the world. Working across disciplines and historical precedents, since 1975 the organization has connected emerging and established curators, artists, and institutions, to forge international networks and bring behind-the-scenes curatorial discourse to new publics.
The exhibition is free and open to the public. The galleries of the Peeler Art Center are open Monday-through- Friday from 10 a.m. to 4 pm; Saturday 11 a.m. - 5 p.m.; and Sunday 1 – 5 p.m., and are closed during University breaks and holidays. Visit the Peeler Galleries online for more information about special events associated with this exhibition. You may also contact Craig Hadley at (765) 658-6556 or at craighadley@depauw.edu.
Back