Fall Harvest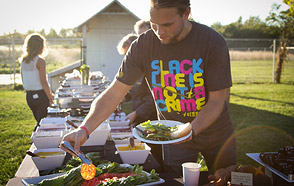 November 7, 2013
5,623 pounds.
Believe it or not, that's the final tally of greens and vegetables grown at DePauw's new Campus Farm this year. Sitting just southwest of campus, the farm produced a cornucopia of organically grown green beans, tomatoes, yellow squash, potatoes and broccoli for students and the community – hundreds of pounds were donated to a local food pantry – on only a single acre of land. And the benefits of having a campus farm haven't been limited to healthy eating.
More than 200 students volunteered at the farm during the course of the season, many of whom – including the defending national champion women's basketball team (below) – rode there on the yellow, fixed-gear bikes of the community bike program launched last year.
Lauren C. Krumwiede '14 has been one of the most familiar faces at the farm this fall. She originally found time to volunteer between class and softball practice on Thursday mornings, but before long, she was so knowledgeable about the farm's operations that farm manager Jacqueline "Jackie" Baratta made her a volunteer leader for Saturdays as well.
Krumwiede, whose dream is to run her own educational farm, started volunteering to gain more hands-on farming experience, but the unpredictable nature of the work keeps her excited for every trip back.
"I enjoy never knowing what I will get when I go out there," Krumwiede says. "There are always different tasks to be done, different vegetables to be harvested. Sometimes you work alone, but most of the time you work with others. I have had some amazing conversations with people while picking tomatoes together."

Krumwiede and volunteer co-leader Curt R. Hardacre '15, both members of DePauw's Environmental Fellows Program, spent weekend afternoons in September and October teaching farm visitors how to harvest plants and set natural insect deterrents. For instance, rather than applying chemical pesticides, they used home remedies such as chili pepper spray.
Through volunteer work at the farm, Hardacre says many students see for the first time how the food on their plates is produced.
"Most of them take back more knowledge than they came with," Hardacre says. "They are usually surprised by how much food we have actually produced and how all of it is natural and organic.
"It's great to give back not only to the campus and community with food, but also to allow students to experience something that has been lost from our culture in recent decades: a personal connection with our food and the land."
The harvest was the much-anticipated result of two years of advocacy by students, staff and faculty members in coordination with the Office for Sustainability and DePauw's dining services. What began with a rallying call by students Ashley M. Conard '14 and Stephen G. Hesterberg '13 in 2011 soon developed into a University-backed plan for a campus farm led by Sustainability Director Carol S. Steele. Two members of DePauw's Board of Trustees even got involved, donating $20,000 to kick start the project. Last spring, ground growth was burned, soil was plowed and fencing was installed in preparation for the first planting.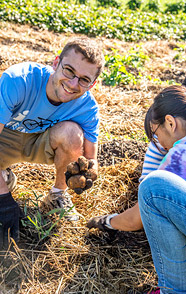 Assistant Sustainability Director Anthony M. Baratta '10 (left) says support for the farm has only increased since then.
"We are thrilled by the support we've received, not just from [campus dining service vendor] Bon Appetit, but also from the DePauw and Greencastle communities," Baratta says. "Our 150-person dinner at the farm quickly sold out in October, and we enjoyed a wonderful meal and entertainment from the School of Music. We couldn't have the farm without the fantastic effort of student volunteers."
Future plans for the farm were already being discussed as the last pounds of turnips were plucked from the soil. With seven acres available for farming purposes, the Campus Farm's footprint has room to grow as more student volunteers pitch in, and multiple departments have expressed interest in using the farm as part of their academic curriculum.
And, Baratta adds, "We also need to teach people how to cook this food."
Back