Campus Tree Canopy Grows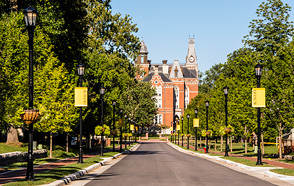 December 19, 2013
A shaded spot for an outdoor picnic or study session has never been far away on DePauw's campus. Over the next few decades, finding one will only get easier.
By the end of 2013, 180 new trees will have been planted as part of projects associated with the University's Campus Master Plan, while the next phases of construction call for at least 115 more.
"We are making a conscious effort to reforest the campus canopy as new projects happen," says Assistant Director of Facilities Management Robert "Rob" A. Harper, who oversees the University's grounds and landscaping. "We know that trees take time to grow and that we have an aging population, especially around East College."
Many of the new trees line the campus pathways leading to and from historic East College, including the new Anderson Street entrance to the University, flanked by 52 triumph elms.
Combined, the new and planned trees represent a significant increase since 2009, when Vine and Branch Arborists and Horticulture Consultants cataloged some 920 trees on DePauw's grounds. With previous tree plantings having occurred on an as-needed basis, the new additions to the campus canopy may be the largest planting in the University's 176-year history.
The effort was nationally recognized in February when DePauw was named a Tree Campus USA for the first time by the Arbor Day Foundation. Tree Campus USA is a national program created in 2008 to honor colleges and universities for effective campus forest management and for engaging staff and students in conservation goals. DePauw achieved the title by meeting Tree Campus USA's five standards, which include maintaining a tree advisory committee, a campus tree-care plan, dedicated annual expenditures toward trees, an Arbor Day observance and student service-learning projects.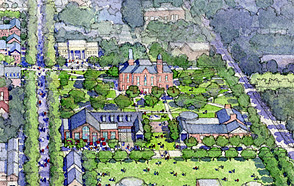 Of the new and planned trees, most are cultivated varieties of species indigenous to the Midwest – a mix of oaks, maples, elms and sycamores able to thrive without heavy irrigation or fertilizing. Harper says the decision to use native species was aesthetic as well as practical.
"Our goal is to maintain and develop a tree canopy befitting the typical, traditional university campus," Harper says. "Plus, the advantage is that the plants are already accustomed to the soil structure and environment."
One additional advantage: the new trees are another step forward on DePauw's path to carbon neutrality. Depending on its size, a single tree is capable of absorbing dozens of pounds of carbon each year. Spread across hundreds of new plantings expected by the completion of the University's Campus Master Plan, those off-sets will grow with the trees.
Back