Former VP Dan Quayle '69 On Hand for Texas Celebration of George H.W. Bush Presidency
April 7, 2014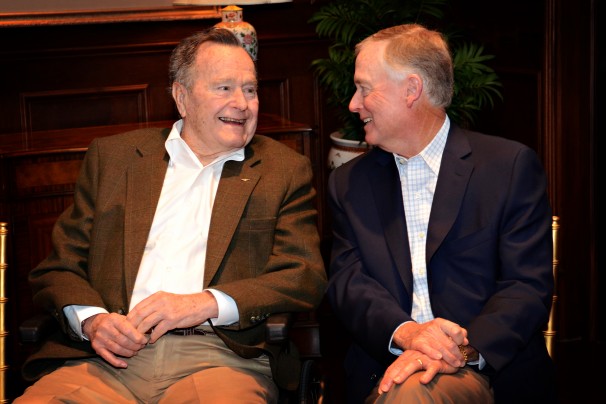 "About 600 of George H.W. Bush's closest friends, administration officials, political allies and family members headed to his presidential library in Texas this past weekend to celebrate the 25th anniversary of his presidency," reports the Washington Post. "Familiar faces such as former secretary of state James Baker, ex-chief of staff John Sununu, and onetime vice president Dan Quayle spent the time reminiscing about their glory days, eating heaping plates of barbecue and listening to live country music played by Clay Walker and Garth Brooks."
Quayle, America's 44th Vice President, is a 1969 graduate of DePauw University. He and Bush are seen together at the event in the image at right. (photo by Chandler Arden/George Bush Presidential Library Foundation)
"President Bush had this uncanny ability to bring and to forge consensus," Quayle told the gathering. "The style of his leadership led to results."
Read more at the Post's website.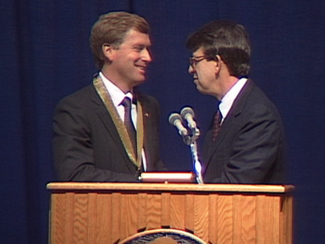 Quayle is chairman of the private equity firm Cerberus Global Investments. He was elected to two terms in each the U.S. House of Representatives and U.S. Senate before serving as vice president. A member of DePauw's Athletic Hall of Fame, Quayle captained the Tiger golf team and was a political science major.
On October 26, 1990, the vice president was awarded his alma mater's McNaughton Medal for Public Service. A video montage of that visit, which included a speech in a jam-packed Neal Fieldhouse, is embedded below.
Back