Sunday Event to Honor Rev. P.T. Wilson as He Leaves Greencastle
June 23, 2014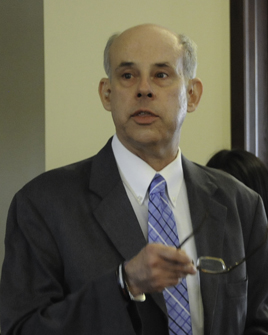 The Reverend P.T. Wilson, who has served for eight years as senior pastor of Gobin Memorial United Methodist Church and chaplain of DePauw University, has been appointed to serve at Greensburg United Methodist Church and will deliver his final sermon on campus this Sunday, June 29. The public is invited to join in a 1 p.m. event in the church sanctuary to pay tribute to Dr. Wilson, who leaves as the longest serving pastor in Gobin's history.
As the Banner-Graphic notes, "P.T. has been an active member of the Greencastle community, supporting many organizations such as Kiwanis and Rotary with his volunteerism and leadership. He has also been a regular blogger on the Banner-Graphic website and has interacted with and assisted many DePauw University students, staff and faculty through his additional appointment as university chaplain."
Read more at the newspaper's website.
Also available is this previous story.
Maureen Langdoc will join DePauw this summer as the new chaplain; her husband, Bryan, will become pastor of Gobin Church. They come to Greencastle from Darlington (Indiana) United Methodist Church.
Back