New Display at Indy Airport Honors Col. Weir Cook '16
August 8, 2014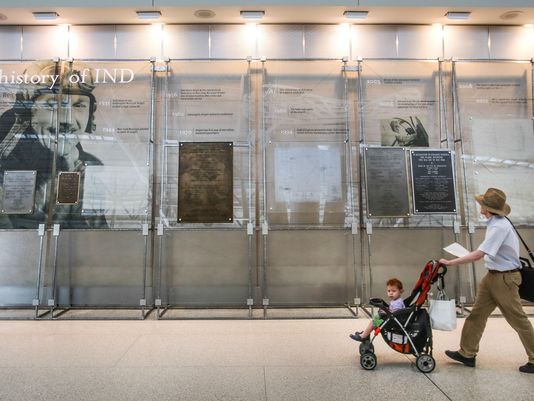 "A new art project at Indianapolis International Airport pays homage to the airfield's former namesake," reports the Indianapolis Star. "Travelers will pass the new project as they walk from the ticket counters toward security checkpoints. Its six panels depict Col. Weir Cook, his World War I-era Spad fighter plane and historic moments in airport history." (photo: Michelle Pemberton/Indy Star)
Harvey Weir Cook, a member of DePauw University's Class of 1916, "flew fighter planes in World War I. He played a role in bringing Indianapolis its first airport, which opened in 1931," writes Michael Auslen. "He died in a plane crash in New Caledonia during World War II, and the city named the airport for him. In the 1970s, the airport was renamed Indianapolis International Airport, removing Cook's legacy."
The art, installed this week, displays a timeline of air travel in Indianapolis.
Read more at IndyStar.com.
A statue of Col. Cook is also planned for the airport. You'll find details in this previous summary.
Back