Media Outlets Note Public Launch of The Campaign for DePauw
October 4, 2014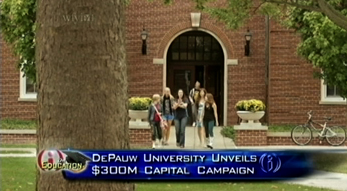 "DePauw University is taking the wraps off a $300 million capital campaign this weekend," Inside Indiana Business host Gerry Dick told his statewide television audience. "The ambitious effort ... includes a real focus on student access to the University," he added.
President Brian W. Casey tells the program, "It's incredibly expensive what we do at DePauw. And were we to charge what it costs to educate one of our students there, DePauw would just be unavailable to some of the best students in the country. So what we are trying to do is just get endowment that allows us to support students."
Dr. Casey says the Fund for DePauw, which is being launched as part of the campaign, "is part of a multi-generational campaign to make sure that any student that we want to have come to DePauw will be supported -- we will meet their needs."
Read more at Inside Indiana Business.com. Video of the segment is embedded below.
"DePauw University announced Friday a $300 million fundraising effort aimed in part to improving student access and affordability," begins an article published in today's Indianapolis Star. "To accomplish that, the university said it would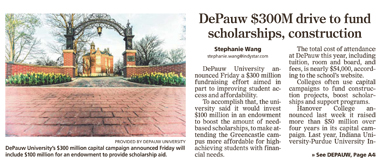 invest $100 million in an endowment to boost the amount of need-based scholarships, to make attending the Greencastle campus more affordable for high-achieving students with financial needs," writes Stephanie Wang.
"The Campaign for DePauw also will focus on building renovations and enhanced career preparation. The private nonprofit university is already two-thirds of the way to its goal, with $200 million pledged in donations since 2012, a news release said."
Access the complete article at IndyStar.com.
The public launch of The Campaign for DePauw took place last night in the shadows of historic East College. Learn more here, or visit the campaign's website.
Also available is a photo gallery from last night.
Source: Inside Indiana Business/Indianapolis Star
Back