Paintings of Prof. John Berry On Display at Peeler Center, March 10 - April 5
February 11, 2015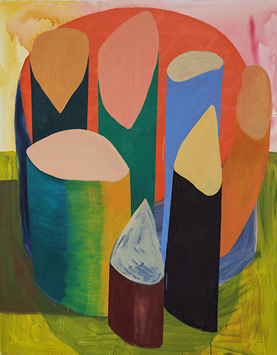 Image Loading, a collection of new paintings by John Berry, assistant professor of art at DePauw University, will be on display at the Richard E. Peeler Arr Center, March 10 through April 5. (Pillar Party, 2013; acrylic, latex paint, and watercolor on canvas, 48" x 60")
The exhibition explores how we involve ourselves in myth-making. Berry's work resists vanishing-point perspective, realistic light, and gravity in order to emphasize alternative, non-empirical ways of framing experience.
This flexibility in the viewing experience intentionally resembles the way in which the Icons unfold over time. Narrative aspects may be read from left to right, but there is often, importantly, a vertical access -- a connection not just through time, but between worlds. Image Loading asks us to reconsider the resonance of the spaces we inhabit. Berry re-appropriates the sacredness of these spaces, whether painted or programmed.
As part of the exhibition, a free public lecture with Professor Berry is scheduled for Wednesday, March 11, at 4:15 p.m. in the gallery.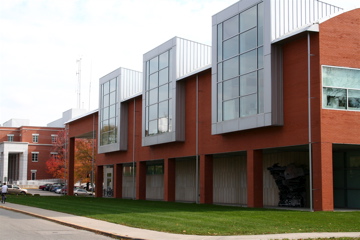 The galleries at the Richard E. Peeler Art Center are open Monday-Friday from 10 a.m. to 4 p.m.; Saturday 11 a.m. - 5 p.m.; and Sunday 1 - 5 p.m., and are closed during University breaks and holidays. For more information, click here or contact Craig Hadley, director and curator of exhibitions and University collections, at (765) 658-6556.
Back