Reporting In!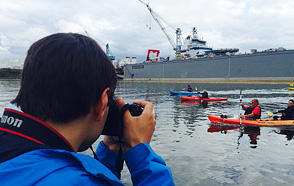 July 31, 2015
In the cramped and constantly belt-tightening world of news media, student interns are often asked to forgo a paycheck in lieu of the chance to work. These unpaid internships can sometimes seem frustratingly out of reach for a college student expected to pay for food, transportation and lodging.
Enter: the Kilgore Fund. This summer, eight staff members from The DePauw student newspaper are serving on internships around the country – with financial backing from one of their storied predecessors.
"Thanks to the Kilgore Fund, we can pay DePauw student journalists who take nonpaying internships," says Lili Wright, professor of English and faculty adviser to The DePauw. "Many of these students could not afford to take these jobs without subsidy. Without Kilgore, they might be working at the mall. Instead, they are working for professional media outlets and learning from mentors all over the country, building skills, building their résumés."
The Interns

Rebeca G. Bagdocimo '17, Los Angeles Times
Lillian H. Burba '18, The Paducah Sun
On her story, Pilot in purple plane spreads hope, awareness:"I love spreading stories of hope. What this man was doing and the love he had in his heart was just infectious, even in the small crowd assembled there."

Alexius K. Burton '17, The Frontier
On her story, Glossip supporters ask Oklahomans to spare death row inmate's life:"I recently drove to the state capital to cover a press conference hosted on behalf of death row inmate Richard Glossip. I also had the opportunity to meet Sister Helen Prejean, who famous is for her book Dead Man Walking."

Austin H. Candor '18, The News-Sentinel
On his story, Being a human hamster is what you make it: "I wrote about my experience in a human hamster ball. It was one of only two columns I've done in my entire journalism career, and I really enjoyed writing this one."

Samuel L. Caravana '17, The Oregonian
On his story, 2015 Festival of Balloons lifts off: "My trip to the summit of Mount St. Helens was canceled due to a more pressing story. Seeing me bummed out after the cancellation, my editor asked me for my weight. I was confused – then he told me with a big grin that I would be riding in a hot air balloon in two days."
Jacob L. Lynn '17, Tampa Bay Times

Tyler L. Murphy '17, KET (PBS affiliate)

Alexander Weilhammer, Sarasota Herald-Tribune
On his story, Braden River graduate works for his family and for Mexico: "I wrote about a Mexican immigrant who grew up in Florida. He won a scholarship because of his family status and was able to attend Stanford University. He recently graduated and will start working for Shell Oil in Houston for two years."

Named for legendary newspaper editor Bernard "Barney" Kilgore '26, who grew the Wall Street Journal into an international titan, the Kilgore Memorial Fund has helped develop DePauw's student journalists since 1969. The fund provides for equipment, traveling expenses and visits from professional journalists, in addition to supporting the professional development of the newspaper's staff.
"The DePauw and the Kilgore internship program work in a wonderfully circular fashion," Wright says. "At The DePauw, students learn basic reporting, photography and design skills. This work gives them the credentials to apply for media internships. All summer, they learn and improve by working with professionals. In the fall, they bring all that expertise back to the paper. This is one of the reasons DePauw University has produced so many quality journalists over the years."
As Indiana's oldest college newspaper, The DePauw has an impressive (and ever-growing) alumni roll. Among them:
Eugene C. Pulliam, co-founder of Sigma Delta Chi (The Society of Professional Journalists) while a DePauw student in 1909
Kenneth C. Hogate '18, who introduced stock-market quotes to the Wall Street Journal as its managing editor
James B. Stewart Jr. '73, best-selling author, Pulitzer Prize winner and columnist for the New York Times
Meg Kissinger '79, two-time Polk Award recipient and investigative journalist for the Milwaukee Journal-Sentinel
Jonathan V. Fortt '98, cohost of CNBC's Squawk Alley
Benjamin C. Solomon '10, Pulitzer Prize-winning video journalist for the New York Times
"The student newspaper is a fabulous way to learn," Wright says. "It can be difficult to make mistakes in a public forum – our readership expects excellence – but there is no quicker way to learn the importance of getting the facts right."
Back