Media Outlets Carry News of DePauw's Presidential Transition
August 14, 2015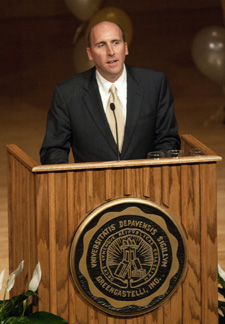 "DePauw University President Brian Casey is leaving his role at the end of the school year to become the president of Colgate University," reports the Indianapolis Star, one of many media outlets to report today on the announcement that was made by the two colleges last evening.
"Casey, who has been the head of DePauw since 2008, was the university's 19th president. A national search for his successor is getting started," writes Kris Turner. "Casey is credited with helping DePauw usher in an era of planning and growth. He aided the university in honing its vision for the future and fundraising efforts. According to DePauw, the institution has or is in the process of investing $80 million to bolster its campus."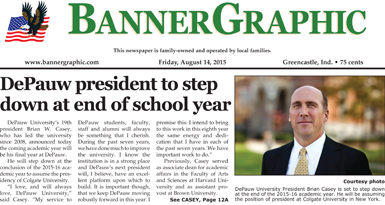 Access the complete article at IndyStar.com.
You'll find another story at the website of the Indianapolis Business Journal; the news was carried on the front page of this morning's Banner-Graphic of Greencastle (seen at left).
Indianapolis NBC affiliate WTHR noted DePauw and Colgate's announcement during its morning newscast. Inside Indiana Business Radio, which is heard across the state of Indiana, also featured the news.
DePauw's announcement can be found here, while Colgate's news release is accessible by clicking here.
Back