Teach For America Co-CEO Elisa Villanueva Beard '98 Wants More Kids to "Dream Big"
September 1, 2015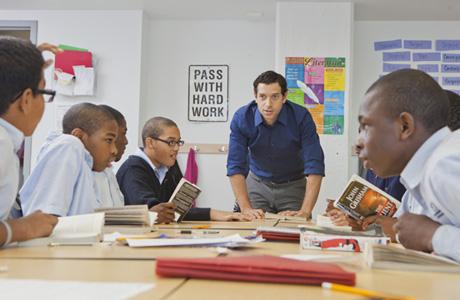 "As a second-generation Mexican-American from one of the poorest counties in the nation, and an African-American who grew up during the days of legal segregation, both of us beat the odds when we had the opportunity to graduate from DePauw University and the United States Naval Academy, respectively," write Elisa Villanueva Beard co-CEO of Teach For America, and Charles Bolden, administrator of NASA and former astronaut. "But too many American students, particularly those of color and from low-income communities, still lack access to the educational opportunity they need to succeed in school. Lacking early exposure to STEM means that too few have the chance to pursue these fields later on."
In an essay for MSNBC.com they write, "At Teach for America and NASA, we recognize that we need our young people to innovate, to dream, and to lead us into the next phase of national discovery. That's why both of our organizations

are committed to leveraging the power of our nation's diversity, and helping every American child reach her or his potential. It's also why, in particular, we're committed to making sure all students have the background in Science, Technology, Engineering and Math (STEM) to excel in today's global economy."
The pair note, "The reality is that we still have a ways to go. When only about 6% of our STEM workforce is black, 6.5% Latino, and fewer than 1% Native American or Alaska Native, it's clear we have more work to do ... We need all kids -- not just white students, not just male students -- to have the opportunity to dream big and be the leaders in STEM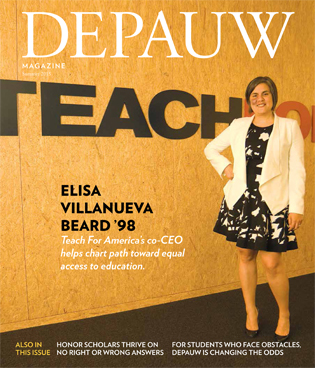 careers our nation needs. We're both convinced that education is at the core of expanding this opportunity to all Americans."
Access the complete essay here.
Elisa Villanueva Beard is a 1998 graduate and was who was a sociology major at DePauw. Her journey with Teach For America began as a new college graduate when she taught first and second grade bilingual education in Phoenix as a 1998 corps member. She joined TFA's staff in 2001 to lead the organization's work in her hometown in the position of executive director. Four years later, she stepped into the national role of chief operating officer, leading Teach For America's field operations. She was named co-CEO in 2013 and delivered DePauw's commencement address (embedded below) that May. She's also featured on the cover of the current issue of DePauw magazine.
Back