William Dugan '60 Recognized for Founding Community Cancer Care
October 1, 2015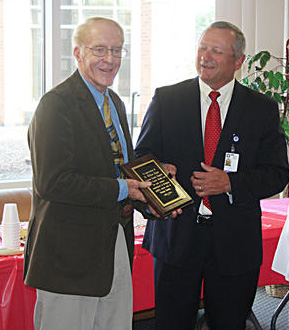 "Putnam County Hospital celebrated 30 years of quality cancer care Monday by recognizing founding member of the Cancer Center, Dr. William Dugan," begins an article in the Banner-Graphic of Greencastle. "Dr. Dugan, a (1960) DePauw University graduate, was among the founding members of the Community Cancer Care (CCC) outreach program in 1983, which focused on providing cancer care in rural settings to keep patients from having to travel for treatment. The dream expanded to the point a team of doctors were visiting around 30 sites throughout the state to treat patients with cancer," writes Sabrina Westfall.
"We were lucky to have a DePauw connection and be one of the first sites," says Dennis Weatherford, the hospital's chief executive officer. "Thirty years is a long time for the cancer center to provide world-class cancer treatment right here in Greencastle." (top photo, l-r, Dr. Dugan accepts a plaque from Weatherford)
"Greencastle has a special place in my heart," Dugan noted.
"He added his wife was a DePauw graduate, his five children attended DePauw -- four of whom graduated from the university -- and two grandchildren graduated from DePauw. 'The latter part of who I had lunch with every time I came to clinic here in Greencastle. So, it was a special thing for me,' Dugan said."

You'll find the complete article at the newspaper's website.
A 2013 gift by Dr. Dugan and his family provided DePauw's Archives with a collection of letters written to Matthew Simpson, the college's first president. Learn more in this previous story.
In 2005, William M. Dugan Jr., M.D., received the Rural Health Practitioner of the Year Award.
Back