Washington State Assistant Football Coach JaMarcus Shephard '05 "Brings Passion to the Game"
April 4, 2016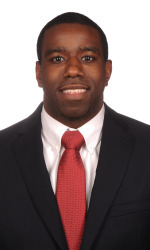 A feature on JaMarcus Shephard, inside receivers coach at Washington State University, notes, "Many football coaches coach with passion. Shephard coaches with urgency. In the brief seconds between plays he will run onto the field to talk a little smack to a defensive back, chide or congratulate one of his receivers and demand the player get back into position for the next play."
The piece on Shephard, a 2005 graduate of DePauw University, is published in Spokane, Washington's Spokesman-Review.
Kyle Sweet, a sophomore football player at WSU, says of Shephard, who came from Westerm Kentucky, "Whatever he's doing, he's doing 100 miles per hour. It's a nice change-up to have. I think there's a lot of energy going around and that's something we, as a group, needed last year."
Jacob Thorpe writes that, besides football, "there is much more Shephard wants to teach. His fiery persona is not a reflection of a former coach and his intensity is not derived from football. Rather,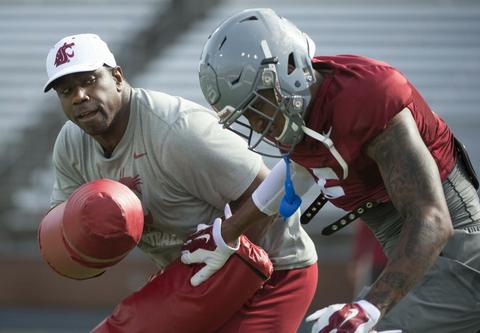 Shephard emulates a youth group leader who was just as demanding when teaching about faith, philosophy and fatherhood as Shephard is when coaching a crossing route. Shephard wants to fulfill that same role for the receivers he coaches."
"So many young men who are missing the mark in those areas," Shephard tells the paper. "At least for the time that they're here at Washington State, they're going to get the right type of role model." (photo at left by Tyler Tjomsland / Spokesman-Review)
You'll find the complete story -- headlined "New Washington State coach JaMarcus Shephard brings passion to game" -- at the publication's website.
Also available is a Seattle Times story from earlier this year.
A standout wide receiver on the DePauw football team and a physical performance (sports medicine) major,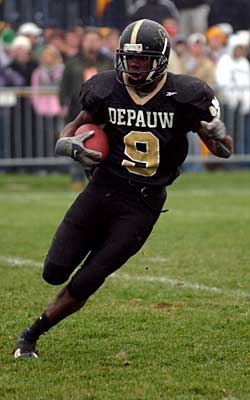 Shephard graduated #3 all-time in school history with 3,997 all-purpose yards, and spent a semester interning with the NFL's Philadelphia Eagles. His coaching career began at Northrop High in Fort Wayne, Ind., his alma mater. He then went to Broad Ripple High School in Indianapolis and became an assistant track coach at DePauw.
From 2005 to 2007, Shephard worked for the NCAA, then spent four years working at the National Center from Drug Free Sport. He joined Western Kentucky's football staff in 2011 as a volunteer assistant, then was defensive quality control coach for two seasons before becoming wide receivers and special teams coach.
The captain of both the Tiger football and track and field teams, JaMarcus Shephard earned his master's degree in recreation and sport administration from Western Kentucky.
Source: Spokane Spokesman-Review
Back