'Heritage Barns' Painted by Gwen Gutwein to be Exhibited at Peeler Center, May 31 - Aug. 1
May 11, 2016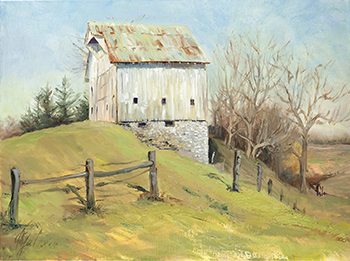 In 2004, Indiana artist Gwen Gutwein started a painting project, "Heritage Barns of Indiana." The goal -- now completed -- was to select at least two old and/or historic barns from each of Indiana's 92 counties and paint them, completing most of the works on location. (at right: Putnam County: Marvin Evens Trust Barn; oil on canvas, 18 x 24, on loan from the artist)
An exhibition of Gutwein's work, which has been honored as a Bicentennial Legacy Project, will be on display at DePauw University's Richard E. Peeler Art Center from May 31 – August 1, 2016. "Heritage Barns: An Artist's Work" is presented free of admission charge and is open to the public.
Gutwein earned a bachelor's degree in fine arts from Indiana University, graduating with honors. In addition, she studied painting in Washington, Utah, North Carolina, Florida, Greece, and Indiana. The winner of numerous awards and now based in Fort Wayne, she continues to participate in solo exhibitions, group exhibitions and juried competitions. Many of her paintings are in private and public collections across the country. She also teaches private art classes and paint oils and watercolors.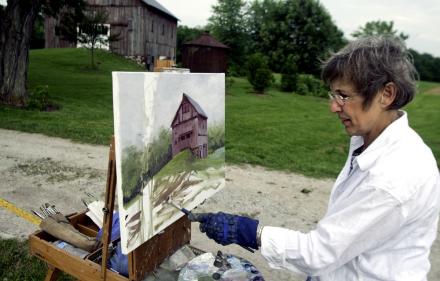 Learn more at the artist's website.
The galleries at the Richard E. Peeler Art Center are open Monday-Friday 10 a.m. – 4 p.m.; Saturday 11 a.m. - 5 pm; and Sunday 1 – 5 p.m., and are closed during University breaks and holidays. For more information, click here or email craighadley@depauw.edu.
Back