Don ('61) & Barbara Daseke's $20 Million Gift of "Gratitude" Spotlighted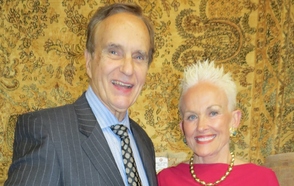 June 8, 2016
"This tale of higher education giving involves gratitude," notes Inside Philanthropy in an article that begins, "DePauw University in Greencastle, Indiana recently received a $20 million gift from alumnus Don Daseke and his wife Barbara to support The DePauw Trust (the school's endowment for need-based support) and other vital initiatives at the university."
Ade Adeniji writes, "Daseke graduated from the liberal arts school in 1961 before going on to receive an M.B.A. from the University of Chicago. Based in Texas, Daseke is the chairman, president and CEO of Daseke Inc., one of the largest open deck/specialty trucking companies in North America ... Long before Daseke went on to enormous success, he was a Rector Scholar at DePauw. The financial aid he received as well as the relationships he developed and sustained, left a lasting impression."
The piece, which includes several quotes from Don Daseke and concludes, "This isn't the first time that university faculty have played a role in a big higher education gift, and it won't be the last. These figures can often be leaders in their field, and can help guide students through their early experiences in a career.
Daseke was an economics major at DePauw and went on to many successful entrepreneurial endeavors."
Read more here.
The gift was originally announced on May 12. It was also noted in the Chronicle of Philanthropy, the Indianapolis Business Journal, Greencastle's Banner-Graphic and by Inside Indiana Business.
Back