ESPN VP Jill Frederickson '92 Learned "How to be Strategic" at DePauw
July 19, 2016
The Indianapolis Star features Jill Frederickson, vice president of SportsCenter and news editorial operations at ESPN and 1992 graduate of DePauw University, in a feature. The newspaper's Dana Hunsinger Benbow asks Frederickson about her degree from DePauw, where she majored in philosophy and religion.
"I looked at those four years as my time to be intellectual," Frederickson tells the Star. "I did all of my real work experience with (sports-related) internships to learn what I wanted to do, what I didn't want to do. A philosophy major teaches you how to think, how to be strategic, how to analyze. I've used it a lot in management. Not so much the religion."
Frederickson has had a storied career in television. She was previously senior coordinating producer of SportsCenter and news editorial operations and before that led all of ESPN's event motorsports production, including NASCAR and the IndyCar Series. (photo: Frederickson, right, at the Indianapolis 500, with daughter Jane Grove and 1985 Indy 500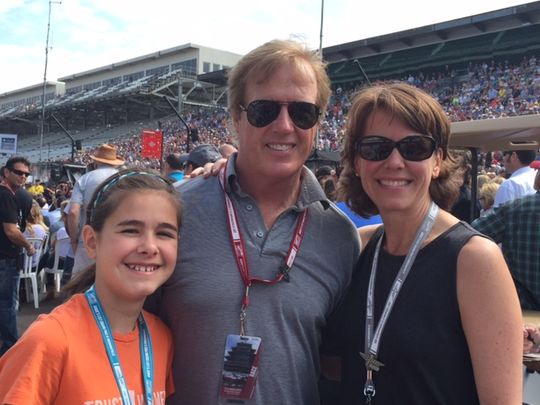 winner Danny Sullivan. Frederickson credits Sullivan with igniting her love of sports at age 14.)
"The older I get the more I feel a responsibility to speak up for (women and women's issues and equality). As I was coming up the ranks, I was more, 'let me just be one of the guys,'" she says. "The facts are we are still a minority (in sports media), but I think some people would be surprised at the women and the voice women have here (at ESPN)," she adds. "We take diversity really seriously. You do, naturally, have more men who are interested in sports. (It's about) making sure the women and the minorities that are here really have a voice. Who was in the meeting? Who are we asking for feedback from?"
Read the complete article, "Indy woman climbs ranks at ESPN," at IndyStar.com.
Also available is this recent summary.
Source: Indianapolis Star
Back